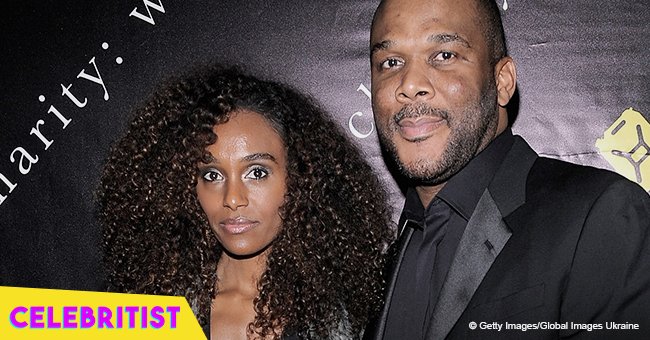 Tyler Perry's longtime girlfriend stuns in floral swimsuit enjoying beach day in Italy
The American actor, playwright, and filmmaker has a longtime girlfriend and baby mama, who is a model in her own right.
31-year-old Gelila Bekele is an Ethiopian model and social worker, and the mother of Tyler Perry's son, Aman Tyler Perry. The couple have been together since 2009, and seem to be going strong on their journey together.
Bekele recently took to Instagram to share a photo of herself enjoying a relaxing day on the coast of Italy, soaking up the sunshine in a small bikini.
In the shot, the model was looking back over her shoulder at the camera. The burnt orange bikini had a white and black feathered pattern on it, and a frilly trim around her chest. She also had on a small pair of dark round sunglasses.
"Sole mare felice #italia," she captioned the shot, which translates to "sun sea happy."
It's not the first time the model has shared photos of herself in a swimsuit to her Instagram account, with a number of other images of her dressed down for a beachy day gracing the social media page.
Another image, with the model wearing the same two-piece swimsuit, was taken at Montauk Point State Park in the state of New York. Bekele was relaxing on a wide hammock, enjoying the sunshine.
Last month, Bekele shared a photo of herself getting hit by a waterfall that she described as a "gentle force" while wearing a black bikini that put her flat and fit abdominal area on full display.
Bekele has been traveling to Ethiopia in a bid to get closer to her roots. She hopes that by learning about her origins and her culture, she will have a btter understanding of herself as well as others.
Tyler and Bekele have been dating since 2007, after they met at a Prince concert. In 2014, they welcomed their first son together, Aman Tyler Perry, and the actor revealed how he learned he was going to be a father.
"I get a FaceTime call and she's holding up the pregnancy stick," he told People Magazine. "I'm like, 'I guess this is happening.'"
Please fill in your e-mail so we can share with you our top stories!