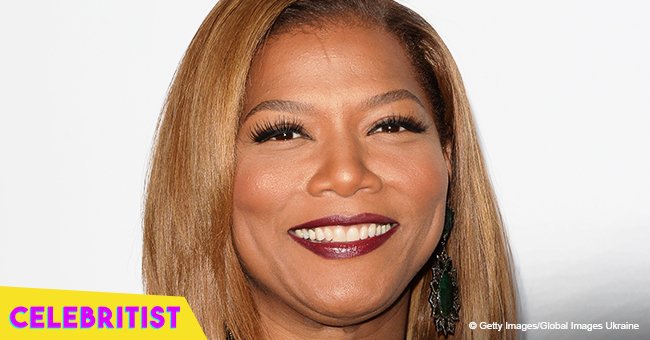 Queen Latifah is all smiles rocking black maxi dress in photo with Gabrielle Union
Queen Latifah and Gabrielle Union look amazing in a pic taken at the Essence Festival a few weeks ago, where they offered their insight of what "Dreaming in Black" means to them.
This year's Essence Festival left us with incredible performances, pics of our favorite artists together and an incredible message of encouragement and hope from some of the most ferocious black women in the entertainment industry.
AT&T, one of the sponsors of the annual festival, hosted a star-studded brunch to talk about their "Dream in Black" initiative, which is focused on encouraging black people to dream big, embrace their culture, and put themselves into action to live out their wildest dreams.
In attendance where motivational speaker Chris Gardner, John Donovan, Marachel Knight, Claudia Jones and AT&T Dream in Black partners, Gabrielle Union and Queen Latifah.
The two beautiful stars looked stunning in a photo shared in both of their Instagram accounts from the encounter. While Union went for a long orange dress with black straps and a black belt, Latifah chose a loose black dress tied to the neck and completed the look with golden bracelets.
"when royalty becomes family #tbt #dreaminblack @att @queenlatifah," Gabrielle wrote in her caption.
In the panel, both women talked about the so-called "black renaissance" and about giving second opportunities to the people that have failed their first chances.
"We've been amazing, and we've been worthy since we all took our first breath. There has been a 'Black renaissance' since the dawn of time," Union expressed.
"What we are seeing is more collaboration, which I will say has been relatively more new. Since the #MeToo and #TimesUp movements, I have gotten more calls from other actresses wanting to collaborate."
Latifah, a known activist that recently partnered with Strayer University to encourage and inspire students to finish college, talked about how vital it is in the black community to give second and even third opportunities to people that have not completed their studies, or even ex-convicts.
She said:
"I've employed people who are not college educated, who may have been to jail and they've gone on to be stars for me. They have imaginations and creativity that you never would imagine but if you don't give them an opportunity, and not just give the opportunity, nurture it a bit, be patient, but feed it and watch it grow. Those things are important."
Union shared a bit of her speech on Twitter, wrapping up in a few words the goal of the "Dream in Black" campaign and encouraging the community to follow her advice.
"Dreaming in black to me is allowing other people to dream in black. When our dreams are coming true, you got to enable the next man's, the next woman's dreams. Is not enough for us to make it, we want all of us to make it. "
Please fill in your e-mail so we can share with you our top stories!