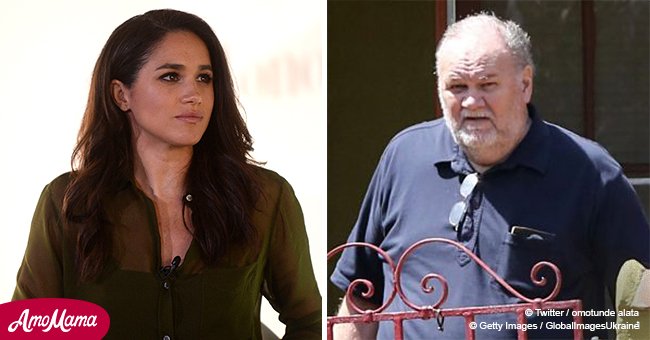 Daily Mail: Thomas Markle falsely claimed to have heart surgery to generate sympathy

Thomas Markle's heart attack and surgery were all made up to gain sympathy from the public, a close friend of his daughter Meghan Markle has claimed.
Thomas, 73, originally explained to TMZ that he suffered a heart attack five days before Meghan's wedding and required emergency surgery.
However, a source close to the Duchess of Sussex said that Thomas was never sick and that his heart surgery was a fabricated story as a way out of the royal wedding and garnered sympathy, Daily Mail exclusively reported.
Follow us on our Twitter account @amomama_usa to learn more.
"The whole story about Meghan's father undergoing heart surgery was made up," the source said. "He had to come up with a good enough reason not to attend her wedding and avoid any further embarrassment after those staged photos went public."
Thomas recently appeared on ITV's Good Morning Britain, where he said that he had checked into the Sharp Chula Vista Medical Center, north of the Mexican border.
But the clinic has since said "no such name" had ever checked into the hospital.
"The poor health story was his way of generating some compassion from the public, and taking the attention off those staged photos which were a complete embarrassment to Meghan and the royal family," the source added.
"Of course Meghan is upset with him. Her father missed her wedding. He missed walking her down the isle all because of that ill-conceived publicity stunt."
The source continued: "It was really just such poor judgement on his part. Now everyone's feeling sorry for him. They shouldn't. He brought this upon himself and if he were truly sick Meghan would have made an effort to visit him. Don't feel sorry for him. If anything, feel sorry for Meghan."
According to Daily Mail, the revelation comes just as Samantha Grant, Meghan's older half-sister, lashed out on the Duchess of Sussex saying she will be to blame if their father dies.
Please fill in your e-mail so we can share with you our top stories!