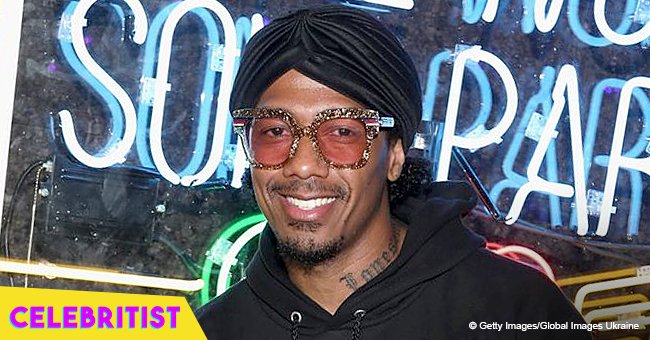 Nick Cannon's 3 children rock long curly locks while 'working out' with their dad
The popular rapper, radio and television personality, and producer is also a father to three sweet children, and regularly shows them off to his fans.
Nick Cannon has three children: 7-year-old fraternal twins Monroe and Moroccan Scott with his ex-wife Mariah Carey, and 1-year-old Golden from his relationship with Brittany Bell.
And the proud papa makes plenty of time to spend with his little ones, even though he shares custody of the twins with the We Belong Together singer.
He recently took to Instagram with a funny photo of himself and his children, where he appeared to be trying to do some push-ups while both twins were lying down on his back. The youngest of his brood was sitting watching from the sidelines.
In the photo, the shirtless Cannon seemed to be struggling to keep himself up as first Moroccan and then Mornoe were lying on top of him.
Moroccan wore a white sleeveless shirt and a pair of grey shorts, while his sister was wearing a white t-shirt and a pair of blue denim shorts. She also had on a pair of red-rimmed glasses.
Little Golden sat nearby, wearing a denim dungarees, a black and white patterned bandana, and a pair of black Converse high top shoes. All four of them had their long dark curly hair flopping about loosely.
"Family Work out plan!!" Canon had captioned the shot.
Another photo Cannon recently shared showed him and the twins meeting up with Jojo Siwa, who made a name for herself on Dance Moms, and is now a dancer, singer, actress, and YouTube personality.
In the caption, Cannon shared that Siwa had given his daughter plenty of gifts during their meeting, which would explain the toothy grin on his daughter's sweet little face.
Cannon co-parents the twins with Carey, and has said that it's not something he finds complicated at all, even spending birthdays and holidays in the company of his ex-wife for the sake of his children.
"The common denominator is we both want what's best for our children," he told Us Weekly. "You put them first and you step back and become selfless in making decisions and it's pretty easy."
Despite their split, Cannon still confesses he has plenty of feelings about Carey, and none are hard feelings.
"That's my homegirl. Always will be," he added. "Whatever she does, that's Mariah Carey. She can do no wrong in my book."
Fortunately, although their family has become blended in the past year with the addition of Golden, the older siblings absolutely adore their baby brother.
"They love it," Cannon told People Magazine recently. "We get to spend every holiday together. Golden just took his first steps, and they were there helping him walk. It's cool to see 7-year-olds approaching a 1½-year-old and how they're taking on that big brother and sister role."
The adorable tot celebrated his first birthday on February 21, and Cannon threw his youngest a "Golden Safari" themed party for the special occasion. The festivities included drum music, activities like painting and dancing and gold balloons.
Please fill in your e-mail so we can share with you our top stories!