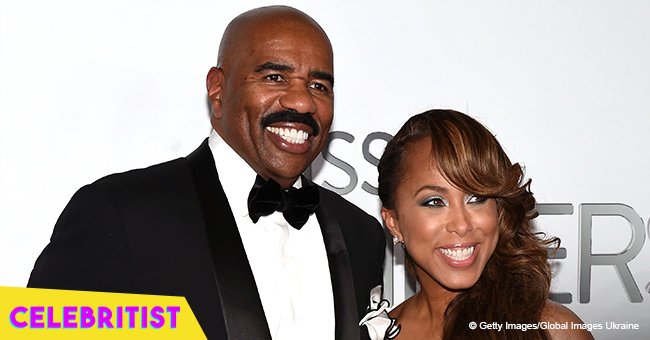 Steve Harvey's wife leaves nothing to the imagination in shorts and jacket in photo with husband
Marjorie and Steve Harvey have earned a place on the list of "power couples" of the entertainment industry, and they've been flaunting their love for each other and luxurious life on Instagram while vacationing in Europe.
The couple, who recently celebrated their 11th anniversary, put down the rumors about an "impending divorce" by going away on a vacation to Europe. But before that, they shared a joyful day in the company of their children and grandchildren to celebrate the U.S Independence.
The Harveys are a big blended family, and they're always up for a good family time on birthdays, holidays and special occasions. So, it was only natural for them to spend the 4th of July playing around and having fun under the scorching sun at Marjorie and Harvey's back garden.
Wearing a white and blue striped shirt, tiny white shorts that put her toned legs on display and star-shaped yellow sunglasses, Marjorie climbed on her husband's lap to document their day as she held a balloon arrangement that, according to her Instagram caption, was meant to be Steve's double.
Days after the family affair, Marjorie and Steve jetted off to Italy, where they visited Portofino and then flew over to Cannes, where Steve shared some beautiful pics on Instagram having a relaxing time in a private boat with his wife.
In one of the pics, Marjorie is resting her head on Steve's shoulder as he holds a cigar while laying on a white sofa on the boat's deck. The fashion blogger went for a black sleeveless top and white shorts, while Steve opted for a white t-shirt and white and red shorts. Both stars shielded their skin from the sun wearing caps.
Steve also shared a pic on the same boat but taken from behind them and focusing on the beautiful sunset that shined upon the calm ocean and other luxurious yachts. The TV host and comedian wrote in his caption:
"What a gift to get some rest... if you wondering .....I ain't doing nothing."
While in France, the couple reunited with comedian Chris Tucker, Tina Lawson and her husband Richard at Beyoncé's and Jay-Z's "On The Run II" tour. Later, they jetted off back to Italy, where they're enjoying the paradisiac views of the Isle of Elba.
Harvey shared a beautiful photo from their adventure out in the sea showing the couple seating on the border of a boat platform with an incredible turquoise ocean in the back. Steve wore a dark green t-shirt and white shorts and Marjorie rocked a black crop top under a bomber jacket and black shorts.
"Much needed we time....with my favorite person on the planet @marjorie_harvey," the 61-years-old wrote in the caption of the stunning shot.
Steve and Marjorie continue enjoying their "baecation" and fans are totally loving the postcard looking pictures they are sharing on social media.
Please fill in your e-mail so we can share with you our top stories!