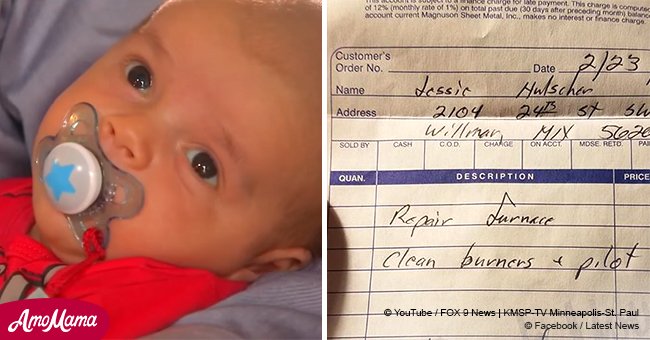 Furnace goes out the day couple's baby is born, but kind repairman fixed it for free
The father, Jesse Hulscher was in a hurry to repair boiler fan and got a surprise in the Service Invoice.
In a world where finding a good Samaritan is a newsworthy story in itself, finding a business owner who overlooks profit for customer care is a rare find indeed.
Jesse Hulscher was on the receiving end of kindness shown by Magnuson Sheet metal and shared the whole episode on his Facebook account.
The local company in Willmar, Minnesota, not only prompted the urgent family requirements but also surprised the family with the cost-free repairs too.
One day after their second child Adler was born, the Hulscher family began gearing up to bring him home. Read more about the Hulschers on our Twitter account @amomama_usa.
Hours before the mother, Maria, and baby Adler were supposed to come home, Hulscher faced a technical glitch with the heating system.
He was waiting at home with their 2-year-old son Henrick and discovered that the fan for their furnace stopped working, thereby rendering the entire heating ineffective.
Hulscher couldn't hide the panic and tension in his voice when he called Magnuson Sheet Metal, a locally owned repair shop, for support.
His call was picked up by the Co-owner of the store, Craig Aurand, who immediately sensed the urgency in his customer's voice. Aurand realized the need for heating, especially in a house with a toddler and a newborn.
To add to the dilemma, a storm was expected in the area in the next two days. Within the next twenty minutes, a repairman was sent to the house, and the furnace was restored before the mother and child came home.
Aurand also realized that this was an emergency for the family, and decided to forego collecting the fees for the services rendered.
A pleasantly surprised Hulscher shared the invoice copy, in which Aurand asked them to take care of their kids, and charged no money for all the services provided.
Hulscher thanked the company for their quick response as well as amazing service. He said that this is the kind of behavior which earns customers for life.
Please fill in your e-mail so we can share with you our top stories!