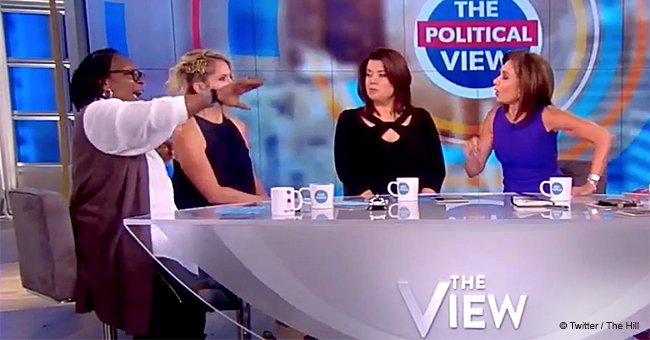 Whoopi Goldberg got into a fight with Jeanine Pirro on 'The View'
In the recent episode of The View, host Whoopi Goldberg and TV personality Jeanine Pirro got into a heated debate live on the air.
Pirro appeared on The View to talk about her new book, Liars, Leakers and Liberals: The Case Against the Anti-Trump Conspiracy.
However, during the discussion, Pirro accused Goldberg of having "Trump Derangement Syndrome." The conversation ended up in a fight until the show cut to the commercial break.
Follow us on our Twitter account @amomama_usa to learn more.
After the show returned, Goldberg said that she unusually loses her cool, but she doesn't like "being accused of being hysterical"
Towards the end of the show, Fox News host and author Pirro adored President Donald Trump with lowering the unemployment rate for the first time in 50 years. But Goldberg and her fellow The View co-host Sunny Hostin pointed out that the credit should be given to Barack Obama.
"You're suffering from Trump derangement in this room," Pirro fired back.
Goldberg told her: "Did you just point at me? I don't have Trump derangement, let me tell you what I have. I am tired of people starting a conversation with, 'Mexicans are liars and rapists.' Listen, I'm 62 years old, there have been a lot of people in office that I don't agree with, but I have never ever seen anything like this."
"I've never seen anyone whip up such hate, I've never seen anyone be so dismissive and clearly you don't watch this show, so you don't know that I don't suffer from that. What I suffer from is the inability to figure out how to fix this, that's my issue," she continued.
The two then got into a shouting match. Pirro said: "You know what's horrible? When people who shouldn't be here end up murdering children of American citizens."
"What's horrible is when the president of the United States whips up people to beat the hell out of people," Goldberg shouted back, adding that she's done with the interview.
The show immediately cut to the commercial back, and when it came back Pirro was no longer sitting at the table.
Goldberg then apologized to the audience and viewers. She said: "So you saw me do something I very rarely do. I very rarely lose my cool, I'm not proud of it and I don't like it."
"I also don't like being accused of being hysterical, because that's one of the things I try not to be on this show," she added.
The drama didn't end there as Pirro told TMZ that she was "mistreated" by the show's hosts. She also told Sean Hannity on his radio show that Goldberg was "literally spitting" at her.
However, Goldberg denied spitting on Pirro. She also made it clear that The View doesn't tolerate "calling people names."
Please fill in your e-mail so we can share with you our top stories!