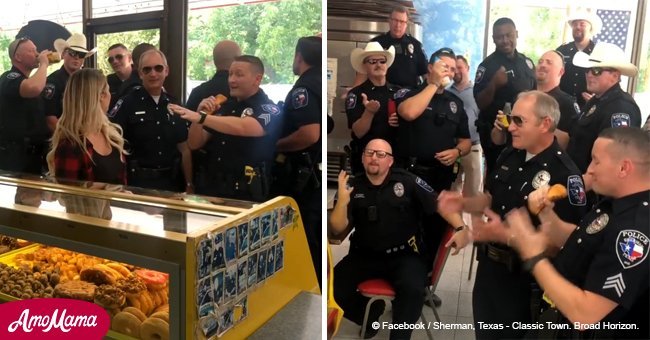 Police Department show off their singing skills in hilarious 'lip sync challenge' video
Police officers from the Sherman Police Department of Texas participated in the nationwide Lip Sync Challenge among the law enforcement officers.
A video posted on Facebook showed the officers going old school to recreate an old movie scene that takes place in a donut shop rather than a bar.
The video begins at Hot N Creamy Donuts and it shows a group of police officers from Sherman Police Department hanging out at the place for a quick snack.
Four officers sitting at one of the tables notice her and start talking about the Lip Sync Challenge. They start to discuss what they should do about it as police officers all over the country seem to be joining it.
Follow us on Twitter to learn more.
They want to pick a unique idea but are disheartened that a lot of great ideas have already been picked up by other police departments.
Suddenly, there comes a lady at the counter, who is just a regular customer, and one of the four officers notice her.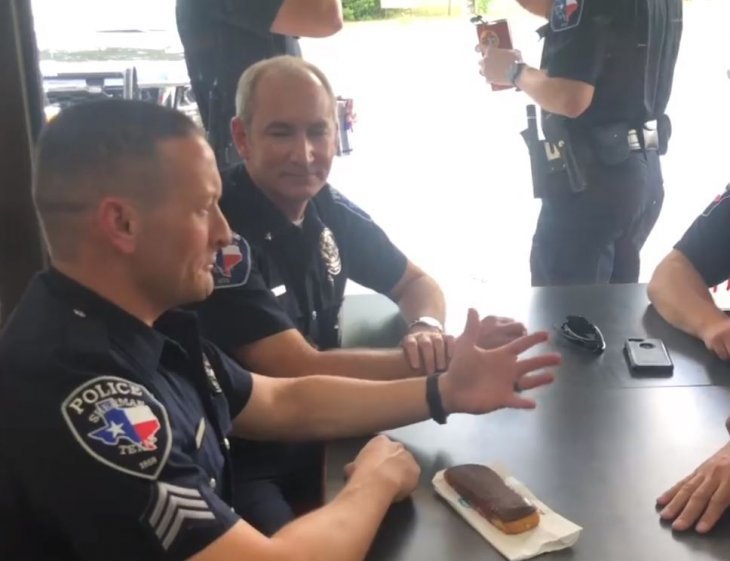 Source: Facebook
Pointing toward the lady, he tells his fellow officers, "Wow. Hey, look at that… She's lost that lovin' feeling." The officer then gets up from his chair and approaches the lady, followed by his other fellow officers.
The officer taps on the shoulder of the lady and, grabbing a donut as a microphone, starts to lip-syncing to the song, You've Lost That Lovin' Feelin'.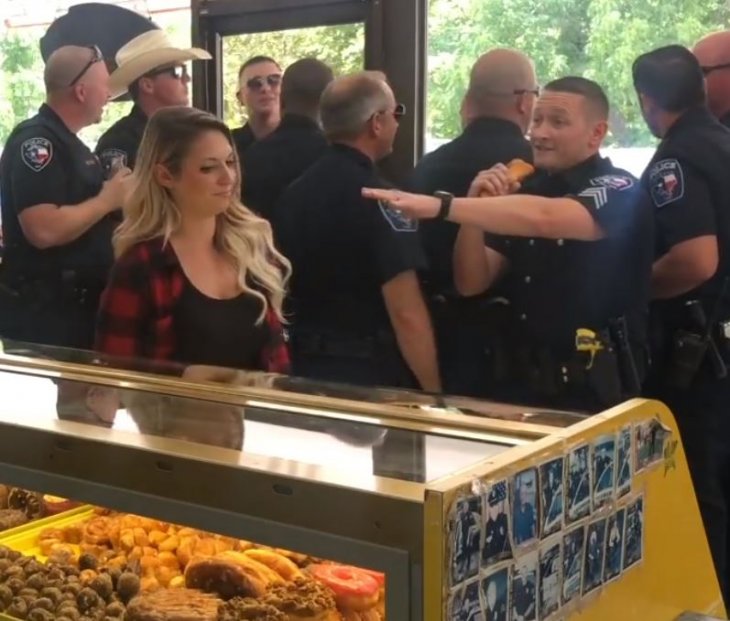 Source: Facebook
Rather than singing to the voice of the original artist, The Righteous Brothers, the officers mimicked the memorable scene from the movie Top Gun and lip-synced to the voice of Tom Cruise.
The entire group of police officers join the song and sing to the lady in one synchronized voice. The amazing serenade is truly a joy to watch.
The video has been viewed on Facebook more than 7.8 million times so far and has been shared more than 146,000 times.
Please fill in your e-mail so we can share with you our top stories!