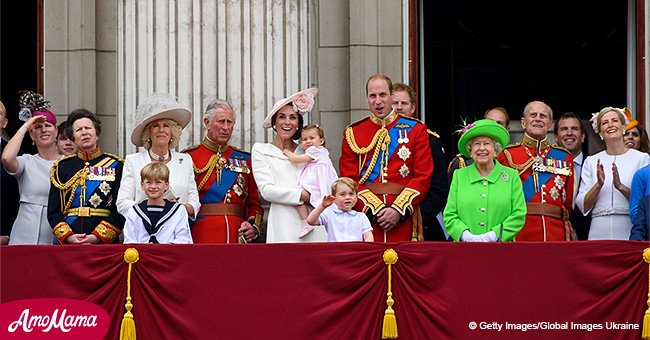 The Sun: Here are the Royal Family's sweet and somewhat humorous nicknames for each other
The British Royal Family has plenty of rules dictating their behavior, their dress, and even their names and what they may be called in public.
Queen Elizabeth and her family are the most famous family in the United Kingdom. They are also possibly the strictest family, with many traditions that dominate their lives on a daily basis.
One of these rules surrounds their names. Not only the names they are given at birth, but also what they may and may not be called in public.
According to the traditions of the Royal Family, the royals cannot be called by nicknames in public, and must be referred to by their full names, and more often than not their titles as well.
This means that Queen Elizabeth must always be referred to as such, and not by "Lizzie" or "Beth." And while this applies to members of the public addressing her, it also applies to her family.
What happens behind closed doors, on the other hand, is a completely different story, and all bets are off.
For example, Prince Charles, Prince William, and Prince Harry affectionately call the Queen "mama," while Prince Philip calls her "Lilibet" and "sausage."
Her great-grandchildren Prince George and Princess Charlotte call her "Gan-Gan." When he was a little boy, Prince William struggled with the word granny, and was once overheard calling his grandmother "Gary."
"The Queen was on hand after William fell over at Buckingham palace, bawling: 'Gary, Gary'," revealed high society gossip columnist Richard Kay in the Daily Mail. "A guest who went to help asked who Gary was, assuming it must be a member of the royal household.'I'm Gary,' explained the Queen, as she scooped him up. 'He hasn't learned to say Granny yet.'"
Prince George and Princess Charlotte also have a nickname for Camilla, Duchess of Cornwall. The Duchess confessed to Lady GaGa at the 2016 Royal Variety Performance that the little ones call her GaGa.
Prince Harry often calls his father "pa," and his father's response is to call him "darling boy."
Interestingly, Prince Harry is also the only member of the royal family that has been allowed to be called by a nickname in public, as the name on his birth certificate is actually Henry, not Harry.
The reason he gets away with going by the popular nickname is that his family always intended to call him Harry. The name has long been a nickname for the more formal name "Henry," and dates back to the French presence in the UK.
Prince Harry's new bride, Meghan, Duchess of Sussex, also has her own personal nickname for her husband. According to Gina Nelthorpe-Crowne, a friend of Meghan's, the former actress starting calling Harry "Haz" just weeks into dating him.
Prince Charles also has a nickname for his daughter-in-law, reportedly fondly referring to her as "Tungsten," a hint at the strength and determination of the new Duchess.
Prince William refers only to his wife as Catherine when the pair are in public, but apparently when they are alone at home he calls her "darling", "babe" and "poppet."
William also had an undercover nickname when he attended St Andrews University in Scotland, where he went by the pseudonym Steve so as to avoid drawing attention to himself.
Harry also became somewhat infamous under the name Spike Wells, a pseudonym he used to create a covert Facebook page in his youth.
The boys' mother, Princess Diana, also fondly referred to her eldest son as "wombat," and his propensity for troublemaking also earned him the nickname "William the Terrible."
Please fill in your e-mail so we can share with you our top stories!