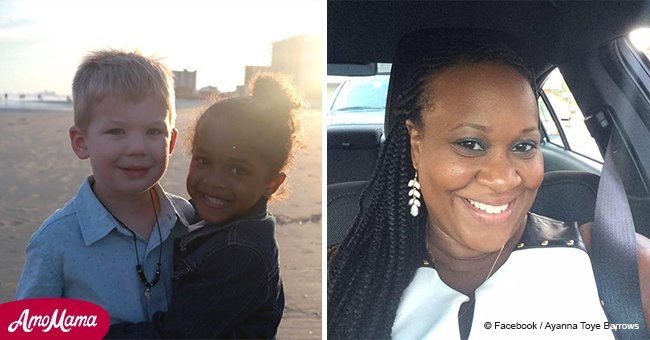 Heartwarming photo of little girl meeting new little boy on the beach goes viral
Ayanna Toye Barrows shared an emotional story of how her small daughter was approached by a strange boy who greeted her warmly.
She took to Facebook to share a photograph of her little daughter and a young boy who formed an unexpected friendship while the mother-daughter duo was taking a sunset walk at Myrtle Beach.
The boy first approached her and showed her his shark tooth around his neck. They exchanged names and formed an unusual bond. Before parting and walking in opposite directions, they even said their goodbyes.
Read more on our Twitter account @amomama_usa.
After a while, he came running back and yelled out her daughter's name yet again. When the girl turned back, the boy greeted her with a warm smile.
The two of them engaged in sharing quick words and the boy again showed her his shark tooth necklace, which apparently gave him powers.
Her daughter and the boy walked together, talked with each other, and even raced against each other, enjoying each other's company.
Barrows then asked the boy's mother permission to take a photograph of the children. When she agreed, Barrows took a few quick snaps that showed the emotional bonding between the kids.
She further explained that no one instructed them to pose or smile at each other, but the children's innocent affection prompted them to give way to a friendly pose without any hesitation.
After their walk finally finished, they parted ways after hugging each other for a rather long time and exchanging about "20 goodbyes."
Barrows saw a special message in the affection the children showed toward each other. She stated that it was a moment that saw no color lines, no judgment, no race, no hate, and no shades.
"It's just pure....two kids meeting on a sunset walk without a care in the world...all they saw was each other."
Please fill in your e-mail so we can share with you our top stories!