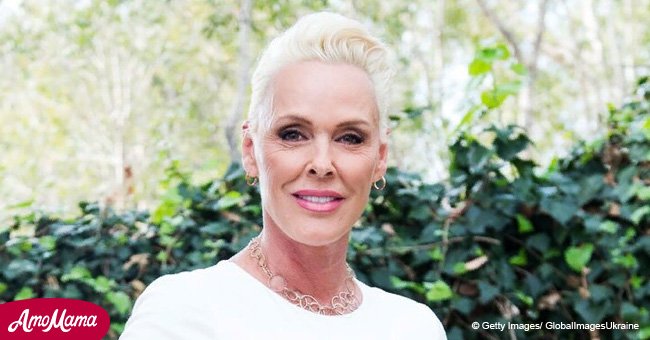 Sylvester Stallone's 55-year-old ex wife shows her daughter 5 weeks after giving birth
The American actor, director, film producer, writer, and filmmaker's second ex-wife has wanted to have another baby for the past decade already, and was ecstatic to welcome her new daughter to the world recently.
Brigitte Nielsen, who was married to Sylvester Stallone from 1985 to 1987, has officially become a mother of five after welcoming a baby girl, who has been named Frida, on June 22 after almost a decade of trying to conceive again.
She was absolutely delighted to share a photo of her daughter with People Magazine, and the publication shared it to their Instagram account.
In the image, the proud mama can be seen lying on a rug in her living room, with her 5-week-old baby lying sleeping in front of her.
"After more than a decade of trying for "her little princess," #BrigitteNielsen, 55, is over the moon that her baby girl, Frida, is finally in her arms," they captioned the beautiful image.
Nielsen managed to fall pregnant at 54 years old via in vitro fertilization, despite being told she had a very slim chance of being able to conceive. Because of the high-risk pregnancy, she only shared her baby news 4 weeks before giving birth.
She and her husband, 39-year-old Italian model Mattia Dessi, are over the moon at their new arrival.
"She's healthy, and she's beautiful," Nielsen, now 55, said of Frida to People Magazine. "I've gotten everything that I wished for."
Nielsen has had a tough time of life when it comes to love, and was going through a messy divorce with her fourth husband Raoul Meyer at the age of 40 when she met Dessi. And she had had no intention of falling in love again.
She was unable to stop herself from loving Dessi though, and their relationship developed quickly from first encounter to her freezing her eggs in the hopes of being able to conceive again. The couple soon started undergoing IVF treatments.
"There was a lot of disappointment," said Nielsen. "It's that phone call going, 'It's negative.' It's the waiting. At times you can feel lonely, because a lot of women don't talk to each other about it."
Nielsen was already a mother to four boys from her previous relationships: Raoul Meyer Jr., 23, Douglas Meyer, 25, Killian Nielsen, 28, and Julian Winding, 34.
Please fill in your e-mail so we can share with you our top stories!