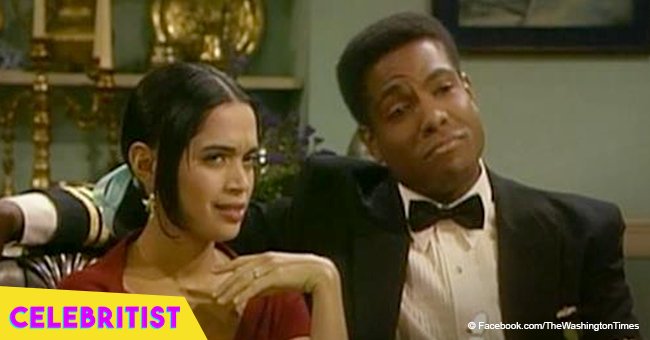 Remember Lt. Martin Kendall from 'The Cosby Show'? His son is all grown-up & looks like him in pic
The American actor, writer, and conservative Christian commentator is all grown up three decades after he got his breakout television role, and even has a grown up son now too.
Joseph C Phillips, known for his role as Lt. Martin Kendall / Daryl on The Cosby Show from 1985 until 1991, has continued to act as he's gotten older, and today has over 40 credits to his name as an actor.
But he's also pursued other endeavors in his life, and has raised a family with his wife Nicole Phillips. The couple shares three sons together, Connor, Ellis, and Samuel.
Joseph recently took to his Instagram account to share a photograph of himself and Connor enjoying a fishing trip together, where the pair had each caught a bass.
In the image, Connor wore a khaki green sleeveless shirt, and a pair of cream shorts. He also had on a royal blue baseball cap.
Meanwhile Joseph wore a white t-shirt and a pair of camo trousers, with a matching camo fisherman's hat and his dark brown sweater tied around his waist.
Each was holding up a large fish they had presumably caught, and there were plenty of seagulls flocking around in the hopes of getting a nibble.
The pair looked happy in the image, and it also demonstrated the stark resemblance between the father-son duo. Certainly looking at their faces seems to be like looking at a set of twins!
Connor also has his own Instagram account, where he recently shared a photograph of himself in the South of France, perched on a rock ready to jump into the beautiful ocean in front of him.
"I always told myself I'd touch the Mediterranean. After this picture, I jumped in." he captioned the photo.
Joseph has been open about troubles he has had with his sons, reporting on an incident at a school. In light of the major concern over guns in schools in the US, a teacher erupted at one of his boys over a photograph of an Airsoft BB gun.
While he didn't say which of his sons it was that faced the teacher's rant, he shared details of the incident itself.
The teenager had been showing friends at school a photo of the gun on his camera when a teacher walked past and snatched the photo out of his hand. Mr. James DeLarme, the teacher in question, then threatened the child with law enforcement.
When Joseph wrote a letter to the principal objecting in the strongest terms to the way his son had been treated over a photograph of a toy gun, he received only a response from the vice-principal, stating the teacher had only been trying to protect the students and staff at the school.
Please fill in your e-mail so we can share with you our top stories!