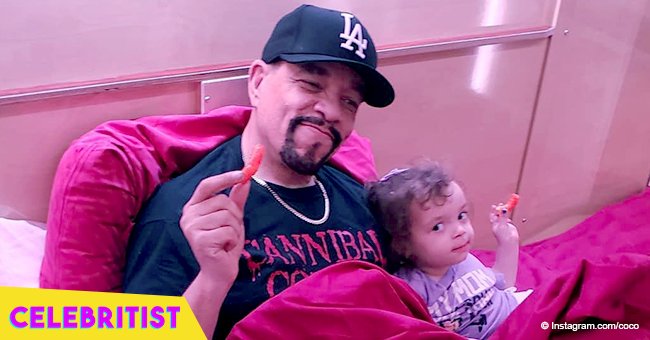 Ice-T's look-alike daughter practices ninja moves in new photo
The American musician, rapper, songwriter, actor, record executive, record producer, and author is also a father to three children, the youngest of whom is just 2 years old.
60-year-old Tracy Lauren Marrow, better known by his stage name Ice-T, has three children with three different women. He shares the youngest, 2-year-old Chanel Nicole, with his wife of 16 years, Coco Austin.
In a recent photo of the tot that the rapper shared to his Instagram account, Chanel appeared to be practicing to be a Jedi master, lightsaber and all.
As it turns out, according to her dad, the photo showed that she was actually in training to be a ninja, something just as cool as a Jedi.
"Practicing my ninja moves... Dress- @rosepetals_bowtique," he wrote in the caption.
And the sweet red and white polka dot skirt and black shirt made her possibly the most adorable ninja to ever exist!
Aside from her "weapon," Chanel also wore a facial expression that indicated it would not be advisable to pick a fight with her or her skills.
Austin also recently took to her Instagram account with a beautiful throwback photo of herself and her daughter, back when Chanel was even smaller. In the image, the sleeping baby girl was leaning against her mother's breasts.
"I follow some mother impowering [sic] pages here on Instagram and I love the inspiring pics they post showing the tenderness and love between a mother and child with or without nursing moments.. I love that I can be a part of that. @babychanelnicole has made me a more sensitive person now that I'm older," she captioned the shot.
Ice-T shared another absolutely adorable photo recently, showing the tot driving her own mini Bentley, teasing that the little girl is likely going to grow up to fall in love with cars, like he did.
"I've got a feeling @babychanelnicole is gonna be into cars like her dad.. Her baby Bently was given to her as a gift from a friend," he wrote in the caption of the sweet shot.
The little girl was smiling cheekily at the camera. She had on a blue and white patterned shirt with tied red straps that were falling off her shoulders. Her short light brown hair was hanging loose, and she appeared to be driving in the driveway.
Behind her stood her parents' vehicles, a Mercedes Benz and a Land Cruiser.
Please fill in your e-mail so we can share with you our top stories!