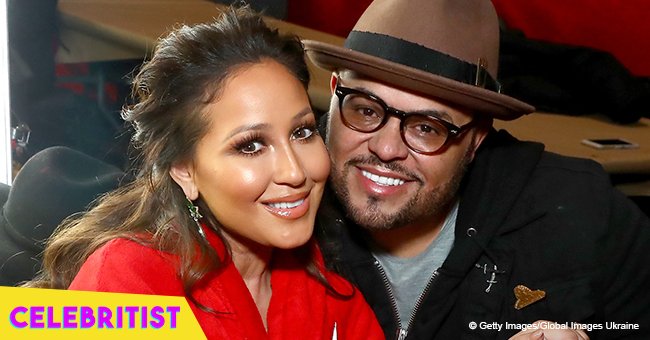 Israel Houghton plants a kiss on wife Adrienne Bailon in romantic photo from Italy trip
Two years after their surprise marriage, Adrienne Bailon and Israel Houghton went on a romantic Italy trip where they packed up on PDA.
"The Real" co-host Adrienne Bailon and gospel singer Israel Houghton have recently embarked on a romantic European vacation, and while on a boat cruise, they passed through the "arch of love". This Arch of Love in Capri is known for being the Love Arc or the Lovers Rock. According to Israel, when a boat goes under the arch, lovers should kiss - and that's exactly what they did!
"Well, this is us- going through the arc- doing what lovers do."
The lovely couple has visited numerous Italian cities for their holiday, as he called it a "Roman Holiday" on one of his recent Instagram posts. The Houghtons have definitely been having the time of their life in the past few weeks, proving that no matter where they go, wherever they both are is the best place on Earth.
"It Feels Like Home When I'm With You @adriennebailon"
Scrolling through the gospel singer's black-and-white Instagram photos gives us all the feels, especially since it gives off the classic vibe that the European country gives off.
"there's no place like us..."
Adrienne and Israel seem to have a knack for European cities, especially since their destination wedding was also in Paris, France, two years ago. In 2016, Adrienne shared with People how blessed she felt when they got married.
"I genuinely just feel so blessed and grateful. I've honestly never been happier in my entire life. I've never felt what I feel right now. I can't even describe what it is, but it's such a peace mixed with total excitement."
Bailon and Houghton were friends prior to when they began dating in Spring 2016, and their quick wedding surprised the world in November when they exchanged vows in front of less than a hundred guests at the Hotel Plaza Athenee in Paris.
Regardless of how they started, they seem to be extremely happy with their lives now, adding color to each other's worlds.
Please fill in your e-mail so we can share with you our top stories!