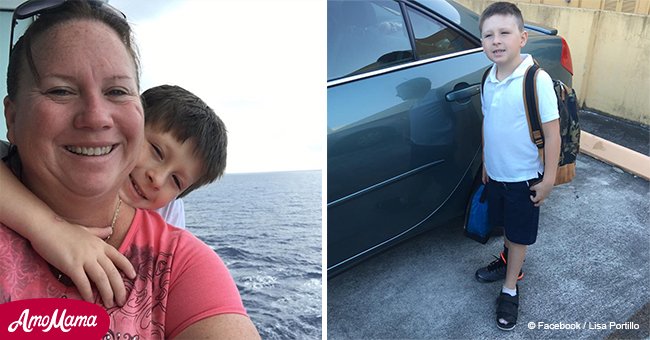 Boy always ate alone on 'father-son day' after losing dad until police officers accompany him
Oscar Portillo's mother, Lisa Portillo, rang up to the Miami Police Department with a heartbreaking request to accompany her son to the school for a special occasion.
Police officers in Miami, Florida, made the Father-Son Day special for the seven-year-old when they accompanied him to his school, according to a Facebook post by Lisa on September 28, 2-16.
With an aim to improve the father-son relationship, the Alpha Charter of Excellence School in Miami, Florida, has an annual event called "Take Your Father to Breakfast."
Read more on our Twitter account @amomama_usa.
Oscar Portillo, a seven-year-old student of the school, however, has never been able to participate in this event. His father was deported three years ago from the United States; a year later on Oscar's birthday, he was murdered in Honduras.
This year, Oscar's mother, Lisa Portillo, with the desire to allow Oscar to attend the event, approached the Miami Police Department as a last resort.
She called them up to request for a favor; she requested the department for an officer to accompany her son to the event. To her surprise, the department happily agreed.
Much to Oscar's surprise, he found four officers at his school waiting for him to attend the special breakfast as his "honorary fathers."
Miami Police Lieutenant Nicole Davis told CBS Miami that they thought instead of one officer, it would be better if they all went together.
The officers sat with Oscar all through the event as the little boy happily enjoyed his breakfast. Lisa informed The Huffington Post that Oscar was unable to believe that the officers cared enough to come; he had no words she added.
After the breakfast, the four officers also signed a pledge, like all other fathers, uncles, and grandfathers who attended the event.
They jotted down their names on paper agreeing to support Oscar, help him to succeed at school, and encourage him to do his best every day, according to WFTV.
Taking this a step further, the officers have also decided to develop a long-term association with Oscar.
Officer Davis mentioned that they were keen to bond with Oscar and try to get him into the Police Athletic League. It would ensure Oscar has a mentor not just for the day but for a lifetime.
In the Facebook post, Lisa articulated how thankful she was to the officers. She mentioned it was the best day of Oscar's life.
According to WFTV, Oscar was very happy and his mother further stated that the officers were extremely special and she had no words to thank them for their efforts.
The police department also shared the cute video of their officers having breakfast with Oscar on Facebook.
Please fill in your e-mail so we can share with you our top stories!