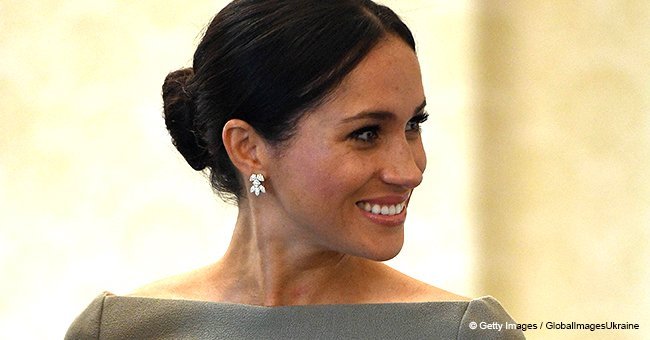 Meghan Markle's choice of undies that caused a wave of criticism
While the Duchess of Sussex has been wowing Royal observers with her fashion choices during her recent trip, some critics are finding fault with her underwear.
As can be seen in a video clip shared by Kensington Palace's official Twitter account, on one appearance in Ireland, Meghan chose a long-sleeved grey Roland Mouret dress with a boat neckline, and an asymmetrical hemline on the sash skirt that fell just below her knees.
She accessorized with a black Fendi handbag and matching black pointed toe heels, and had her hair swept back in an elegant low bun that showed off her delicate pair of diamond earrings.
But while the dress itself may have been considered elegant in some circles, the tweetosphere felt that the new Duchess had committed a major fashion faux pas when it came to her choice of underwear for the occasion.
Another netizen suggested that Meghan needed better support from her undergarments while Linda M felt that Meghan needed a different bra under the dress, as the outline of the chosen underwear was clearly visible through the dress.
Joyous came to Meghan's defense by suggesting that perhaps the dress had cups sewn into it, as it's not uncommon for dresses with this neckline to have them in order to allow women to go without having to worry about bra straps sticking out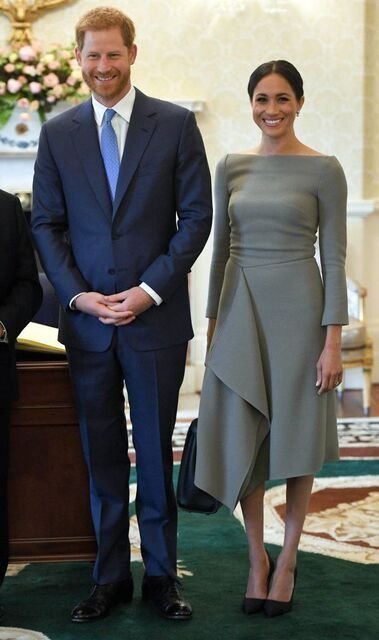 Source: Getty Images
Another tweeter also joined the discussion, saying she wished 'the media would leave Meghan Markle alone,' while Natalie Young criticized both The Sun and Daily Mail for "pitting one woman against another."
She added that the press needs to stop the competition "because it's bullying pure and simple." As reported by Meaww, Meghan has "mastered the art" of diplomatic tours, and the Ireland visit proves it.
Meanwhile, Prince Harry opted for a navy blue suit with a baby blue tie, a white button-down shirt, and black shoes as he embarked on his first international tour as a married man.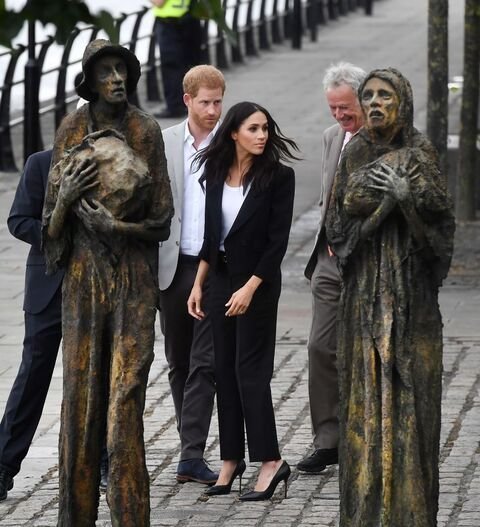 Source: Getty Images
According to the outlet, Meghan is adjusting to Royal life beautifully, despite the recent bra blunder, and crossing her legs at the knees instead of the ankles as she did at the RAF service.
While in Ireland, they met with Taoiseach Leo Varadkar of Northern Ireland, and Republic of Ireland's President Michael Higgins and his wife Sabina Coyne at Áras an Uachtaráin, the President's official home and workplace.
They also attended a reception at the British Embassy in Dublin, and a charity fundraising event at Croke Park for which the Duchess changed into a black pantsuit.
Harry and Meghan visited the Famine Memorial on the bank of the River Liffey, and went on a walkabout through Trinity College, where they saw the Books of Kells.
Please fill in your e-mail so we can share with you our top stories!