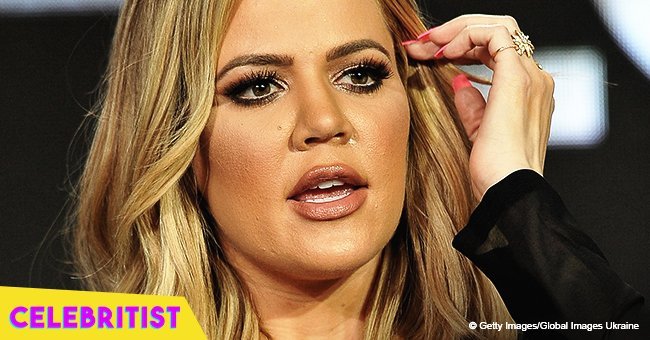 Khloé Kardashian dragged for 'dangerous' way of holding baby daughter in new pic
The reality star and new mom has been getting several critics from fans after sharing a throwback photo of her daughter, True, from two months ago. This comes just weeks after the reality star revealed her new weight loss milestone.
Khloé Kardashian has been sharing her journey through motherhood with fans all over social media. The 34-years-old new mom recently shared an adorable picture on Instagram of her daughter that was taken back in May, showing the girl rocking gray pajamas and sound asleep on her mom's arms.
While most fans found the pic adorable, others slammed Khloé for her long nails and the fact that True's head was unsupported in the position she was sleeping.
Instagram user @nikkishacki wrote:
"Hold that babies neck! It can't support itself! Smh,"
While @evikoutsonikola advised:
"She's so cute! Girl Khloe I think you should cut your nails shorter. For the safety of your baby girl,"
and @crystal_lynn_17 added:
"You know you are supposed to support their head and neck right @khloekardashian ? But who cares...anything for a social media post."
Despite the constant hate she gets from people on social media about literally every step she makes in life, Khloé has been focusing all her energy in two things: her baby girl, and getting back in shape after giving birth.
Last week she revealed on her paid blog that her journey to regain her pre-baby body back is finally coming to fruition thanks to her hard work. "After I had True, I didn't put any pressure on myself to lose the baby weight," Khloe shared. "I just wanted to get back to my regular routine from before I got pregnant, which was working out five to six times a week."
She added:
"Here is where I am at currently. True turned 3 months old on July 12. I honestly didn't give myself a number that I wanted to lose by this time, especially since I wasn't able to work out for the first six weeks. But, since then, I've lost 33 pounds! I'm shocked that I lost that much weight that quickly."
Kardashian revealed that for her, being able to exercise is important because she releases stress in that way, and even after having a baby, following her fitness routine is something that has helped her to keep focused with her new tasks as a mom. She wrote:
"Staying healthy and active is something that's very important to me. Exercise is something I've always used to maintain my sanity and relieve stress. And, now that I have a baby, I still want to keep something that's my time, my space, something I'm doing for myself."
Khloé recently celebrated her weight loss by cutting her hair in a short bob, days after she revealed on Twitter that she would cut it after losing a few more pounds.
Please fill in your e-mail so we can share with you our top stories!