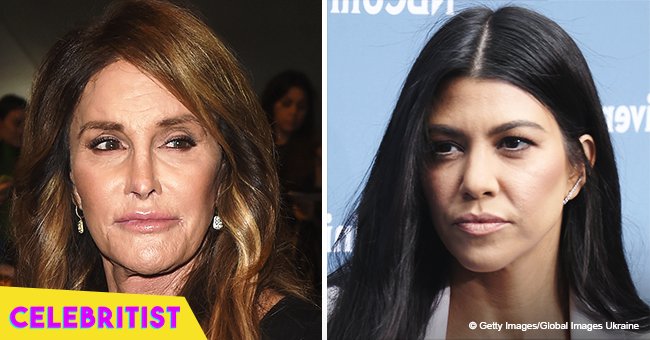 Caitlyn Jenner & Kourtney Kardashian spotted at the same restaurant amid family feud

The Kardashian-Jenner feud has been going on since 2017, and the two sides involved have tried to avoid each other since. However, it seems Caitlyn Jenner and Kourtney Kardashian ended up in the same restaurant this week, despite their long-running feud.
Their fall out came after Caitlyn released a tell-all book called "The Secrets of My Life", and last Thursday night, Caitlyn and Kourtney almost got themselves into a sticky situation when they both dined at the West Hollywood hot spot Craig's.
However, the two reality TV stars missed each other by moments and were unaware of each other's presence at the same location. Caitlyn dined at the joint with her rumored girlfriend Sophia Hutchins, 21. She stepped out in a long-sleeved black top which featured a plunging neckline, a beige dress, and black pointed heels. Her partner, who is a student at Pepperdine University, donned a silky white top and black pants with open-toed sandals.
According to Daily Mail UK, the "I Am Cait" star and Sophia have grown closer after his rift with some of her own children and Kardashian stepkids.
Meanwhile, Kourtney looked stunning as usual, sporting a chic leather dress that showed off her covetable curves. She accented her look with a pair of black-toned lace-up heels and a small handbag.
It was just last year when Jenner revealed that she was crushed after not being able to speak to her stepchildren anymore. On an episode of "Life Stories" with Piers Morgan, she shared that it's been two years since she last exchanged words with Khloe and that she "doesn't talk to any of [the Kardashians] anymore".
"[I haven't talked to] Kris [in] probably a year, Kim probably nine months, Khloe two years ... and Kourtney I haven't talked to her either."
While she is not on good terms with the Kardashians, Caitlyn has made sure to keep in touch with her two children, Kendall and Kylie. While she is not physically present in most occasions for her two daughters, the famous duo makes sure to pay tribute to their dad-turned-mom whenever they can.
Please fill in your e-mail so we can share with you our top stories!