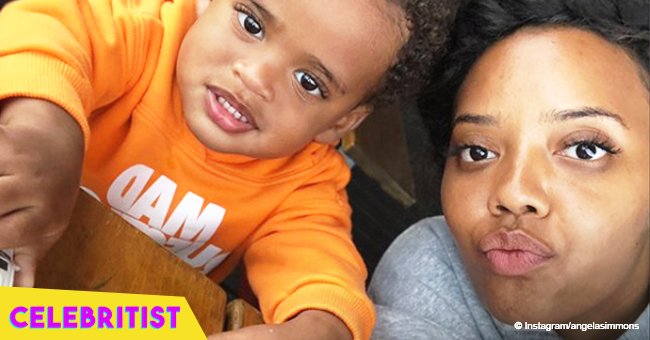 Angela Simmons melts hearts in touching pic wearing matching pajamas with son Sutton
Angela Simmons reveals her special bond with her son as she shares a photo of the two of them in matching sleepwear. The reality star who broke off her engagement with her son's father is reportedly seeing a new man, as she deals with the backlash of bearing a child out of wedlock.
Since welcoming her first child, a son she named Sutton Joseph, Angela Simmons has been all about motherhood and the joy it brings, even when she eventually called off her engagement to the father of her child, Sutton Tennyson.
The daughter of Rev Run and Valerie Simmons recently shared a photo with her one-year-old as they matched in their pajamas. Both wearing red Mickey Mouse sleepwear, the 30-year-old and her son who looked a lot like her appeared as one, revealing the bond they both share strengthened by the caption she accompanied her post.
"There's nothing in this world I wouldn't do for you woke up to my daily inspiration . Feeling energized and excited."
News of Angela calling off her engagement to Tennyson first made waves before the start of the year, and just a little more than a year after they welcomed their son. During a discussion on her show 'Growing Up Hip Hop', Angela revealed she decided to end their relationship when she realized she was no longer happy in it.
"I just got to a place where I feel like I wasn't happy and I tried and I tried and I tried and I wanted it to work because the last thing I wanted to do was not be together with the person I had my child with. I thought I met my husband. I'm going to marry him, we have kids. And it just didn't happen like that. God had another plan for me."
Though she never revealed the exact cause of their breakup, the new mom didn't deny it when asked if cheating was involved. Instead, she said,
"It's a number of things, it's not one thing. It's a lot of stuff. Nothing that you would be happy about."
Following her admission, it didn't take long before Angela received backlash for raising a child out of wedlock especially because she was a Reverend's daughter and that infuriated her.
"For me, it's already a lot, then everyone has to look at me like, 'oh you're not married, you're this, you're Reverend's daughter.' So I'm going through all of that and I have to raise a kid in front of the world…single! People are always going to be in my comments, 'where's the dad? what's this?' It's non-stop! They're always worried about my ring and if it's on or off. [People] think they know me and they don't. They have no idea."
But despite the negativity, Angela remains steadfast and focused on her son, dismissing others' opinions about her.
"People are always going to have an opinion and that's just not who I am. I'm not your opinion."
Meanwhile, the latest news is that Angela is seeing a new man, her co-star Romeo Miller. The two have reportedly been publicly flirting for years and were recently together at the New Orleans Essence Music Festival.
Angela even posted a photo from the event where she's visibly happy and revealed,
"I've never smiled so much and meant it."
She also credited the photo to Romeo who she referred to as her "partner" in her caption.
Fans suspect it's Romeo who's making her smile. Since there hasn't been any confirmation, Angela's cryptic post would have to do for now.
Please fill in your e-mail so we can share with you our top stories!