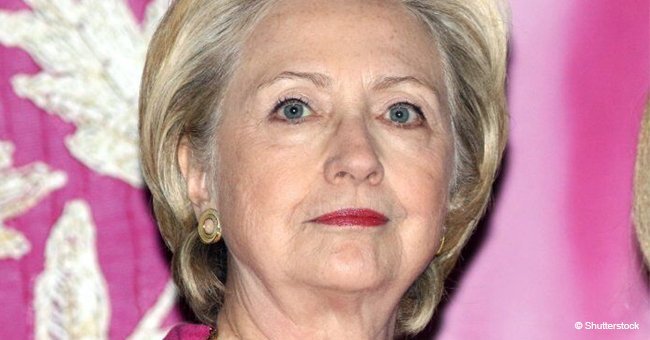 Hillary Clinton received an unusual public reaction at musical performance of 'Hello, Dolly!'
Politician and diplomat, Hillary Clinton, attended the Broadway performance of Hello Dolly, with Bette Midler in the lead role, and the crowd went wild.
As Midler explained on Twitter: '[Hillary Clinton] came to [Hello Dolly] tonight! What a thrill! The crowd stood, clapped and chanted her name until the lights went down.'
She added that the cast and the audience were 'unbelievably happy to see her.' In turn, Clinton took to Twitter and said it was 'such a pleasure seeing [Bette Midler] back where she belongs!'
She also thanked the cast for a joyful night. Read more on our Twitter, @amomama_usa
Clinton met with the cast backstage and got a kiss on the cheek from Midler. She joked on Twitter that she would never wash that cheek again.
Midler shared a photo of Clinton with red lipstick on her face to Instagram and explained in the caption that it was a 'night for the ages.'
She wrote: 'Thank you [Hillary Rodham Clinton] for your kind words about the show, and your wisdom, in telling us: "Vote!"'
As reported by People, Midler won a Tony award in 2017 for her portrayal of Dolly Gallagher Levi, a character from an 1835 English play titled A Day Well Spent.
The character was first portrayed by Ruth Gordon in the mid-fifties, in an adaption titled The Matchmaker which received poor reviews and harsh criticism.
In 1964, Carol Channing was cast in the title role in the screenplay's first Broadway production. Three years later, Barbra Streisand was cast alongside Walter Matthau in the film adaption.
Vice President Mike Pence didn't receive the same royal treatment when he attended the 2016 adaption of Hamilton.
Instead of the crowd cheering and chanting, as they did with Clinton, Pence was "booed like crazy" and wasn't the highlight of the evening.
Please fill in your e-mail so we can share with you our top stories!