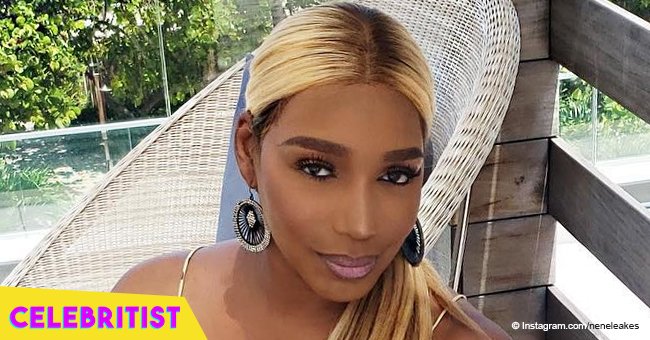 NeNe Leakes shares pic of slimmed down husband after cancer diagnosis & all of their sons
The American television personality, actress, presenter, author, and fashion designer's husband has been ill in recent weeks, following a cancer diagnosis.
Amid her husband Gregg Leakes' battle against cancer, Nene Leakes shares a heartwarming family photo revealing all that their sons have been incredibly supportive throughout the ordeal.
Nene Leakes has never left her husband Gregg's side since he began his fight against cancer in June 2018. And while she's stayed with him at all times, she shared updates with their followers as well.
With constant updates from the reality TV wife, fans know that Gregg is in good hands and appears to be recovering well as the latest photos of the slimmed-down real estate investor revealed.
The most recent photo from NeNe is one that undoubtedly uplifted her husband as it shows the couple surrounded by all their sons, proof of the kind of support Gregg is getting from his loving family.
NeNe stood in the middle of the six men that included her husband Gregg. The patriarch of the family fashioned an L hand sign while surrounded by their sons. It was evident in Gregg's smile he was happy to be with his loved ones.
"This is the REAL show right here #lifeoftheleakes #Gregg and i wit ALL our sons! All wit personalities and opinions! I'm the queen of this castle #4realtho," NeNe captioned the image.
Another group photo of the family showed NeNe front and center with her boys around her, leaning into her husband with a big smile on her face.
Meanwhile, Gregg wore an orange and cream checkered button-down shirt. NeNe had on a white v-neck t-shirt, a pair of knee-lenghh trousers, and a grey sweater tied around her waist.
Two of the boys wore baseball caps, and three of them had chains on around their necks. Only one dressed up like dad in a button-down shirt. All of them looked relaxed and happy as the enjoyed the afternoon together.
''The Leakes boys #lifeoftheleakes #mysons #housefullofboys,'' she captioned the second image.
Gregg and Nene share one son together, Brentt. However, each brought in sons into their marriage from their previous relationships. Gregg has four – Dexter, Daryl, Damian and Denton, while NeNe adds just one son: Bryson.
It was only a few weeks back when Gregg and NeNe were at the doctor's office receiving the terrifying news of the 63-year-old's condition.
But with NeNe's determination to fight the disease with everything they have, it's apparent Gregg is even more motivated to win the battle.
A few days ago, Nene posted a photo of a much slimmer Gregg basking under the sun as she updated her fans of his progress.
She revealed they decided to employ a health and wellness program to assist in Gregg's treatment while thanking their fans for their ongoing support at this difficult time in their lives.
Gregg looked relaxed as he stood against the backdrop of the beautiful blue ocean and a sandy beach. He matched the water in a blue printed shirt, a blue cap and a pair of dark jeans that fell just above his ankles. He added a pair of black sandals.
Gregg was looking up at the sky relishing the fresh air and relaxing moment as fans offered him continued prayers and well wishes in the comments section.
''You guys stay asking for an update on Gregg! We have partnered with a new site called livetolivelife which launches soon! We thought working with these people was the best way to go. It's an health and wellness platform that will give lots of informative info, articles, workout routines, doctors, holistic info, food menus etc,'' NeNe opened her lengthy caption on the shot.
Shortly after they shared the news of Gregg's diagnosis, the couple took to the ocean for some down time to recover from the shock.
There, NeNe shared more images of her husband next to the ocean, where he looked thoughtful as he looked out over the water from a balcony.
''Gregg got his feet up looking at the ocean #chilling #feelinggreat,'' she wrote in the caption.
It certainly seemed that Gregg has kept a calm and peaceful disposition through his fight with the dreaded disease.
In the image, he looked utterly serene, wearing a dark blue shirt with a lighter blue square pattern across it. He left the top half of his shirt unbuttoned, with a white top on underneath. He sat in a wicker chair on a balcony overlooking the ocean.
Earlier in July, The Real Housewives of Atlanta star gave a health update regarding Gregg during Sunday's episode of Watch What Happens Live With Andy Cohen.
After bumping into NeNe and Gregg in Miami, Kandi shared that he is doing well following the initial diagnosis and the early stages of the treatment he was undergoing.
"Gregg is doing... he's in great spirits. But obviously, as a friend, you hate to even see him going through that. So, it kind of like touched me to see that he's in this situation."
The singer reminded their fans to provide the Leakes family with privacy during this trying time, noting that they need the time and space for Gregg to rest and try to recover from his ordeal.
"Right now we need to just let him have his moment to relax and recover because he's doing a lot better."
That is exactly what the Leakes family has been doing, relaxing and making the most out of their time together since Gregg's release from the hospital.
It was only after Gregg was released from hospital that NeNe publicly shared that his hospitalization had been due to cancer. Through an Instagram post, she showed her family's new "normal", which now includes regular visits to the doctor's office.
Like her friend Kandi, NeNe shared with her followers that Gregg is "doing great", and that "the cancer was removed".
She thanked her co-stars, fans, and friends who have been supporting them throughout this rough time in their family's life.
Please fill in your e-mail so we can share with you our top stories!