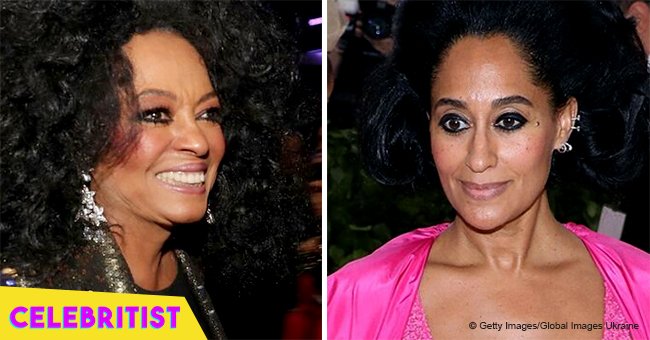 Diana Ross is 'still gorgeous' in sweet pic with daughter Tracee Ellis Ross
Proving that her beauty is ageless, Diana Ross posed for a gorgeous selfie with her daughter, Tracee Ellis Ross, as the pair enjoyed a fun afternoon with their family.
Ross is 74-years-old, but in a recent photo shared by Tracee Ellis to her Instagram, the "I'm Coming Out" singer could easily pass as her daughter's twin.
In the pic, the flawless mother-daughter duo is rocking little to no make-up, with Tracee wearing a bold red lipstick with a bare face and Diana going for an eyeliner and nothing else.
Tracee looked stunning wearing a frilly plaid t-shirt, golden hoop earrings and her hair pulled back, while Diana left her characteristic curly mane flow into the wind as she rested her head on Tracee's while giving a tight-lip smile to the camera.
Earlier this year, Ross received the Lifetime Achievement Award at the American Music Awards ceremony hosted by Tracee. On the event, the "Black-ish" star paid tribute to her mom on her own way by wearing a replica of one of the most iconic outfits Diana wore in her career.
Tracee came out to the stage wearing a black sequined blouse with a white necktie and a white suit, an ensemble that Ross wore during a performance with Michael Jackson in 1981. "This is mom's actual shirt I just wore at the AMAs!" she wrote on Instagram. "I found it in her garage."
Diana has always been a huge influence on her children's lives, and for Tracee, she not only learned how to be in front of the spotlight from Diana but also how to make fashion statements without losing her personality.
The 45-years-old revealed to W Magazine that when she was a little girl, she used to wait for her mom to go out of the house to steal clothes from her closet. Now, years later, she still enjoys going to Diana's home to "go shopping" into her wardrobe.
"I go to my mom's house—my mom has the most extraordinary taste, top to bottom, whether it's the dishes or the clothes, from T-shirts to gowns to hats to coats. I call it shopping, and to this day whenever I go over to my mom's, I sometimes look at my brother, Evan, and I'm like, 'Should we go shopping?'" she revealed.
Diana looks amazing and we're glad to know she left such a positive impression not only on her fans but also on her entire family.
Please fill in your e-mail so we can share with you our top stories!