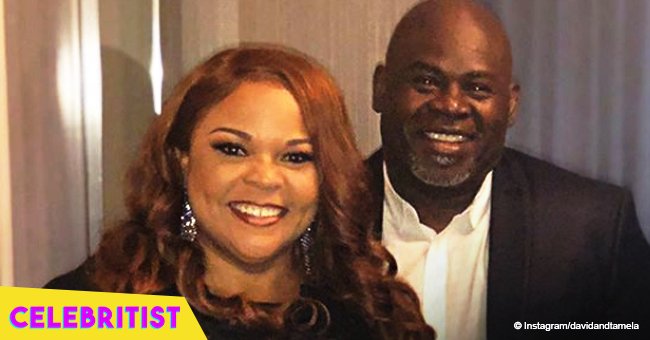 Tamela Mann stuns in plunging blouse enjoying sea-side vacation with husband
The gospel singer, actress, and reality television star has had a busy time of late, and decided to enjoy some down time with her husband of 30 years in a beautiful setting.
Tamela and David Mann have been up to all sorts of projects, including their new reality television show The Manns that started in 2017, and celebrating their youngest daughter's 28th birthday.
But Tamela recently took to her Instagram account to share an image of herself and David relaxing at the beach, looking content as they soaked up the sun's last rays before it set over the horizon.
"Fun in the sun #themanns#usagainstheworld," she captioned the beautiful shot.
While the photo was shared in a sepia tone, Tamela is wearing a patterned shirt with beading embroidered into the collar around the v-neck cut. She also had her hair tied up in a dark scarf, with a bun on top of her head. She also wore a pair of hoop earrings.
David had on a dark t-shirt. Tamela stood behind her husband, and the pair were looking off in different directions with the sea and sunshine behind Tamela' back.
Within just two days, the post had almost 50,000 likes on it.
In February of this year, the couple celebrated Valentine's Day and their anniversary by announcing their intention to write a book together, which they have already titled Us Against The World.
The Christian couple have always been open and honest about their faith, stating that it is an integral part of their marriage and an important reason that they've managed to stay together while so many marriages around them have failed.
"That was my prayer as a young girl: that I would have someone that did the same things that I did, so I wouldn't have to explain all the time because first it was music for us," Tamela told CNB News.
The couple met for the first time when they were just 18 years old, after Tamela's best friend introduced them. For a while, the pair were just good friends, spending hours at a time every single day together.
David told CNB News, "A lot of people ask, 'how do you juggle this?' I never give my marriage the same weight and balance," he explained. "I never try and balance it with anything else. It far outweighs anything else I will ever do. Whether it comes to work, career, the kids, anything, this is my first ministry and I never try to balance anything against her. I tell everybody if this business ever gets in the way of this, we will disappear," he added.
Tamela agreed, "It is the Lord first and then him."
Please fill in your e-mail so we can share with you our top stories!