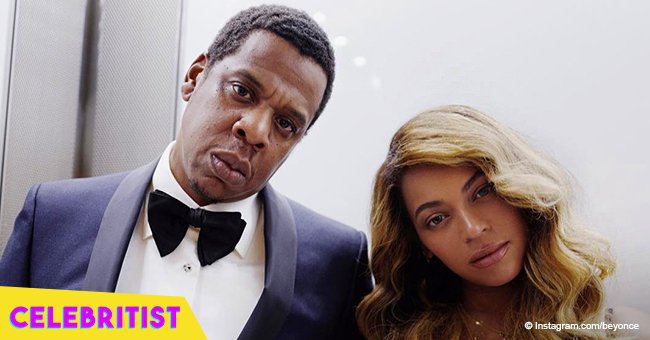 Beyoncé & Jay-Z are all smiles while hanging out backstage with DJ Khaled's son in video

Another star outshines Beyonce and Jay-Z at the backstage of their show. DJ Khaled's son Asahd proves he's a scene stealer in a video where he's hanging out with the touring couple who delights in his presence.
DJ Khaled has just joined Beyonce and Jay-Z's 'On The Run Tour II' and while the famous artist keeps the couple's fans entertained on stage, his son Asahd appears to be delighting The Carters backstage.
A recent video uploaded by Khaled has both Beyonce and Jay-Z star struck following their Washington D.C. show. Backstage, the high-profile singers hung out with Khaled's toddler who was caught on video dashing past them towards his father who stooped to pick him up for a hug.
Beyonce and Jay-Z, both dressed in white, smiled while watching the little boy who clearly had all their attention and had no idea he was surrounded by superstars.
Asahd would often join his father in high-profile events making him used to all the attention. He accompanied Khaled on stage during his performance at the 2018 BET Awards in June.
He was also on the red carpet of the American Music Awards.
During the 2018 Grammy's he matched his dad in a red tuxedo as they granted interviews on the red carpet.
During his recent encounter with Beyonce and Jay-Z, Asahd clearly made no big deal over the fact that he was around famous people devoting all his attention to his father.
Also caught on the same video was Beyonce's belly rumored to be carrying a child.
Talk of baby number four on the way started circulating when she took the stage in Paris earlier this month wearing a skintight bodysuit. Fans who saw the clip that went viral noticed a protruding bump fanning speculation of her pregnancy.
While no confirmation has been issued by the couple regarding Beyonce's curious state, they're more focused on the US leg of their tour which kicked off in Cleveland on July 25. DJ Khaled will be joining the couple throughout the North American leg of their tour which ends on October 2 in Vancouver.
Please fill in your e-mail so we can share with you our top stories!