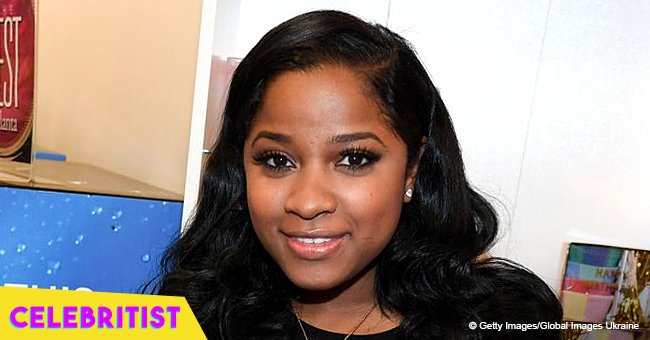 Toya Wright holds her daughter close in sweet pic following her baby daddy's family reunion

The proud mom always shares photos of her daughter Reign, but almost never with her baby daddy Robert Rushing. That is why when she posted a family portrait of the three of them recently, her fans were ecstatic.
Toya Wright carried her baby in her womb without revealing who the father was up until her baby shower. It was only then that she made it publicly known that her baby daddy was indeed Robert Rushing. While many speculated reasons why, Celebrity Insider confirms that the reason was in order to respect the man's privacy especially with the attention Toya has been getting through the years.
However, a recent family picture confirms that while they have been silent about their relationship, Wright and Rushing are indeed together, as their photograph was taken during Reign's dad's family reunion, something that Robert and Reign could have just attended alone if he was not with Toya in the first place.
"@reign_beaux had a ball at Daddy's family reunion."
After their little family affair, the doting mother shared an adorable photo of her and her little girl sporting matching stylish multi-colored shower caps. Her caption was then asking her followers whether or not they should make it a business venture to sell caps like the ones they were wearing.
Her excited fans flocked to the comment section of her post, making sure to share positive praises for the lovely family. While Toya's older daughter Reginae Carter was not in the photo, the doting mother claims that her older daughter has lifted a huge weight off of her shoulder as she has been helping in taking care of little Reign.
@mlbritt_adifferentkindofwoman: She is Beautiful and her dads twin"
"@vonny0718: Your daughter's are beautiful. Great pic of baby girl and daddy. Yes, she is his twin"
@jlizwashington: She looks exactly like her father. So pretty"
Toya shares daughter Reginae with ex-husband Lil Wayne, who she was married to from 2004 to 2006. Prior to her relationship with Robert, she was also married to Mickey Wright from 2011 to 2016, and until now carries his last name on social media.
Please fill in your e-mail so we can share with you our top stories!