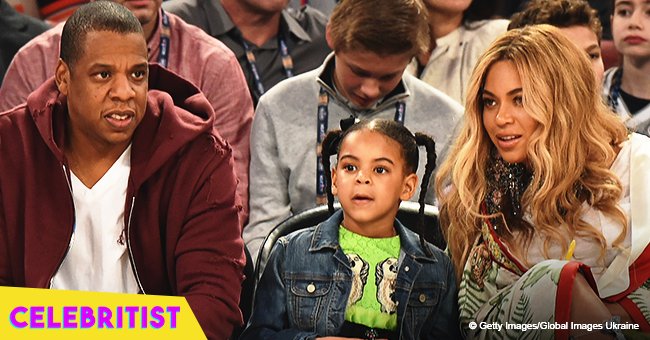 Blue Ivy spotted playing with little brother Sir while on vacation with Beyoncé and Jay-Z
Beyoncé and Jay-Z's eldest daughter, Blue Ivy, was photographed playing with Sir, one of her twin siblings, during the Carters' vacation.
The family, who spent almost two months traveling Europe with their On the Run II tour, took a short break before coming back to the U.S. for the second leg of their presentations which began on July 25.
Some of the things they did during their almost-ten-day-break was getting on a luxury yacht and enjoying the Amalfi Coast in Italy with their three children and some members of their family.
Daily Mail shared some photos taken during their outing, and they portray Beyoncé wearing ripped denim shorts, a long kimono-like beach dress, and a big floppy straw hat she used to cover her face from the sun.
Jay-Z opted for blue swimming trunks and a white shirt that later changed into a yellow one. While the stars attracted a lot of attention, Blue Ivy was the highlight of those pictures.
Some of them showed the six-year-old girl holding a beach ball in front of Beyoncé and Sir as if she was playing with her baby brother. The second baby, Rumi, was not photographed on that day.
Those images were taken days after Beyoncé sparked some pregnancy rumors during her concerts. Everything started during a concert held in Rome, Italy, the pop star was singing and dancing in a form-fitted dress.
By the end of the song, Beyoncé placed her hand on her belly and started rubbing it, just like many women do when they are pregnant.
Apart from that, several people who have been in the recent concerts have captured photos and videos that show her belly somehow bigger. Some people even consider that she has the 'glow' that pregnant women have.
As Celebritist previously reported, it wouldn't be the first time that Beyoncé announced her pregnancy during a concert as she did something similar during the 2011 VMAs when she rubbed her bump after singing Love on Top. Five months later, Blue was born.
The couple didn't do the same with the twins Rumi and Sir, who were born in 2017, but the possibility is real.
At the moment, any member of the family has said anything about the alleged pregnancy. Only time will reveal the truth.
Please fill in your e-mail so we can share with you our top stories!