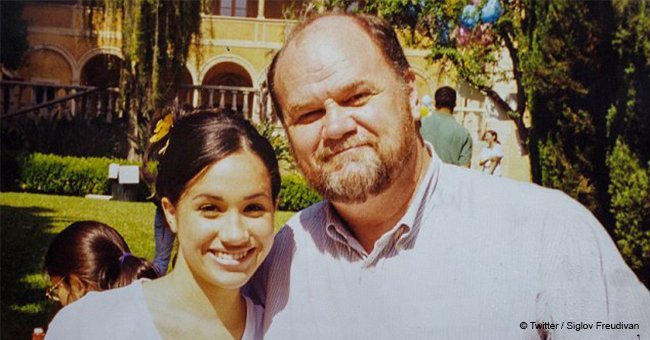 Thomas Markle slams Meghan in brutal new interview: 'I made her the Duchess she is today'

This past weekend, Duchess Meghan's father, Thomas Markle gave a nearly 9-hour long interview about his relationship with his daughter. He did that after saying he wouldn't be speaking to the press anymore.
In his The Mail on Sunday interview, the retired father slammed Meghan. He claimed she was a Duchess today because of him.
According to Thomas Markle, 74, Duchess Meghan, 36, has cut him out of her life. He even fears that he may never see any of the children that she and Prince Harry might have.
Thomas is a retired award-winning Hollywood lighting director who now lives in Mexico. He said he had not spoken to Meghan for more than ten weeks.
For more on this story go to our Twitter account @amomama_usa. Thomas believed the shunning is punishment for him staging fake paparazzi pictures before his daughter's wedding in May.
He said he was being punished for also speaking up for himself after the incident. Thomas shared that he used to have numbers he used to connect with his daughter but they've since been disconnected.
"She'd be nothing without me. I made her the Duchess she is today. Everything that Meghan is, I made her"
Thomas Markle, Daily Mail, July 30, 2018
He revealed that he also wanted to send her birthday card for her August 4 celebration, but feared the card would never reach her. The interview was held at his $695 a month rental home which overlooks the Pacific in the Mexican town of Rosarito.
Speaking about dying, Thomas said, 'It wouldn't be so bad. I have something of a Buddhist philosophy about death. Perhaps it would be easier for Meghan if I died.'
He shared that everyone would be filled with sympathy for her. However, he admitted that he hoped they would reconcile as he would hate to die without speaking to her again.
He showed resentment towards the fact that Meghan appeared to be leaning more on her mother, Doria Ragland, who was also invited to her wedding. Thomas felt that he deserved some credit for helping to raise her.
The Duchess' father even brought Harry's late mother in his argument. He claimed, 'They [the Royal Family] have Meghan treating her father in a way that Harry's mother, Princess Diana, would have loathed. That's not what Diana stood for.'
Meghan's father shared that he didn't care if Harry never spoke to him again for his views. He stated that he refused to stay quiet and felt that Meghan had a sense of superiority.
Since the interview went public, John Legend's wife, Chrissy Teigen, took to social media to slam Thomas for his opinion. She stated that she felt he was embarrassing himself.
In retaliation, Thomas' other daughter, Samantha Grant Markle, slammed Teigen and attacked her features calling her a 'pudgy airhead.'
Please fill in your e-mail so we can share with you our top stories!