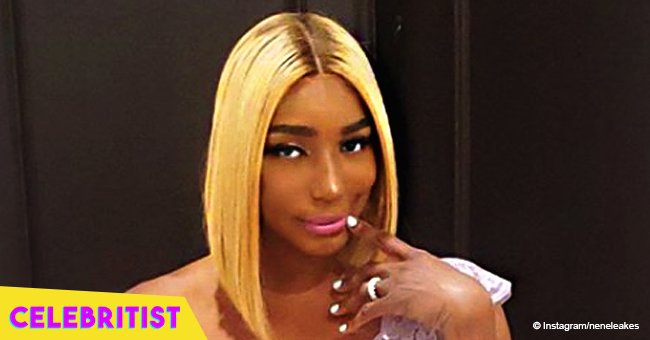 NeNe Leakes turns up the heat showing the outfit in which she's going to bed in new photo
The "Real Housewives of Atlanta" has been busy filming the new season of the show, handling her businesses and tending to her husband, who was recently diagnosed with cancer.
NeNe Leakes has a lot going on in her life right now, but despite the lack of sleep and her busy schedule, the reality star manages to keep a smile on her face while looking stunning in whatever she decides to wear.
The proof lies in one of the recent pictures she shared to her Instagram account. On the shot, NeNe is rocking a bright pink short robe and pink animal printed high heels as she posed at the bottom of the stairs leading to her bedroom.
The 50-years-old tied her blonde locks in a high ponytail and rocked soma light make up as she gave her back to the camera with an innocent look on her face. She explained to fans that after spending the night taking care of some business, she was ready to go to bed.
"Stayed up a little late tonight working on business ideas! Let me take my [redacted] to bed #goodnite #sweetdreams #lifeofnene #serialentrepreneur"
Last month, Leakes shared with fans terrifying news about her husband Gregg Leakes as she posted a photo of the man sitting on a chair on his doctor's office with a screen that had the word "Cancer" on the side.
"Our new normal and the fight begins," she wrote on her caption, letting known her followers that she and her husband were more than ready to beat up the disease. Since then, NeNe and Gregg have received an outpour of love from family, friends, and family.
A few days ago, the star shared a photo with Gregg and all their sons, who have been very supportive of the businessman through the whole ordeal. NeNe and Gregg only share one son, Brentt. But they brought sons from former relationships and now have a huge blended family. Gregg has four, Dexter, Daryl, Damian and Denton, while NeNe adds just one son: Bryson.
"Now see this the REAL show right here #lifeoftheleakes Gregg and i wit ALL our sons! All wit personalities and opinions! I'm the queen of this castle #4realtho #housefullofboys," she wrote on her caption.
We're glad to know Gregg is doing better after the cancer was removed. Still, he has a lot to face to have a full recovery, and with the support of his stunning wife, we're sure he will be fine sooner than later.
Please fill in your e-mail so we can share with you our top stories!