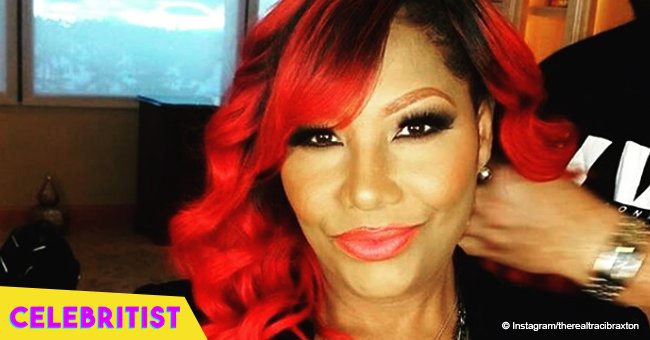 Traci Braxton, 46, defies her age flaunting red braids with matching, red lipstick in new video
With a new album on the way, Traci Braxton has been leveling up her look by adding fire to her hair. The 46-years-old is now rocking long braids as she prepares to release her new single, "Lifeline."
After being kicked out from her sister's Toni Braxton "Sex & Cigarettes" tour, Traci decided to take it upon herself to bring her musical career back on track.
These days, she has been proving her confidence by wearing outfits that most women of her age wouldn't dream to put on, and she's totally pulling it off. While some fans are not so sure about the new look Traci is going for, others are loving the daring woman she's becoming.
Braxton started her transformation by adding a red bright tone to her hair a few weeks ago, and now she's rocking long braids that gave a boost to her image. In a recent clip shared to her Instagram account, Traci looks stunning wearing a sleeveless frilled white top as she posed in front of a blue backdrop as her bold red lipstick demanded attention.
On Tuesday, Braxton shared a mysterious clip to her Instagram announcing the release date of her newest single, "Lifeline," and assuring fans that her sophomore album will be out sooner than they expect it.
"You all have been asking and it's been a long time coming. The wait is finally over! THIS FRIDAY...my official new single #Lifeline I can't wait for you guys to hear! And guess what? My album is coming sooner than you think."
Speaking to The Grio about her sisters, marriage and her upcoming project, Traci mentioned that "Lifeline" was one of her favorite songs in the album. She said:
"Lifeline is talking about where you are in life when you're in love. [It's] when you have people in your life –like friends– and you give up so much things and you don't know if this person is going to be in your life for a long time."
"If this person isn't in your life for a long time, it's like you might as well be gone. It's like if my sisters leave me, my life is gone. I don't how I would react to it."
Is clear that despite their ups and downs as a family, the Braxtons sisters share a deep bond and love for each other. Even though the last season of the show left some tension among them, Traci revealed that is all love.
"[This season] made me and my sisters a little bit closer. Closer than what we normally are," she stated. "We share each other's pain and hurt. You may not see it on the air, but off the air, we would try to hug on each other besides ignoring each other. And right now you know, everybody don't wanna hug."
We can't wait to hear Traci's new material. Hopefully the single will be accompanied with a stunning music video.
Please fill in your e-mail so we can share with you our top stories!