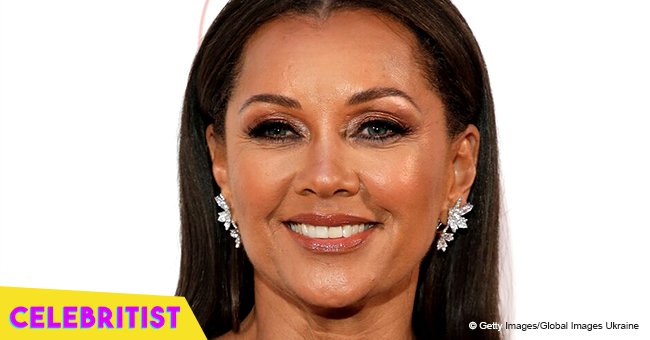 Vanessa Williams shares picture of her grown-up son straddling a motorbike

Vanessa Williams shared a photo featuring her adult son who has a passion for motorcycles. The 26-year-old she describes as "cool" is also an artist who loves going to the gym.
At the height of Vanessa Williams' Miss America-Playboy scandal back in the eighties, she married Ramon Harvey II who later became the father of three of her children – Melanie, Jillian and her son Devin.
Throughout the years, Vanessa's son had been by her side, often joining her on the red carpet. As time passed, not much has been heard of the boy who is now a hunky 26-year-old who sports a beard – until recently.
In one of Vanessa's latest Instagram posts, she proudly flaunts her "#cool #son" sitting on a black motorcycle in LA. Devin, whose face isn't seen in the photo because he's responsibly wearing a helmet, is clearly an adult and a tough one at that.
Dressed in gray jeans, a black jacket, and red trainers, Devin posed for his mother as he straddles his motorcycle. Vanessa's hashtags were accompanied by a heart emoji demonstrating a mother's love.
We found out a few things about Vanessa's son to further enlighten us about him. According to an article courtesy of 'I Love Old School Music,' Devin is a graphic designer for shoes whose works include a Coogi x Adidas Yeezy Boost rendition.
He often features his work on his Instagram. Here are some of them:
A gym enthusiast who inherited his mother's good looks, Devin has some serious abs to show for it. Through his Instagram posts, it appears he has a love for basketball as well as motorcycles.
Devin is also very close to both his parents as he often pays homage to them on social media.
He's especially close to his sister Jillian Hervey, who, like her mother is also a singer of the R&B genre.
Apart from Devin and his two siblings, Vanessa is also a mother to daughter Sasha courtesy of her second husband, Rick Fox. Years after divorcing the NBA player in 2004, she married businessman Jim Skrip.
Please fill in your e-mail so we can share with you our top stories!