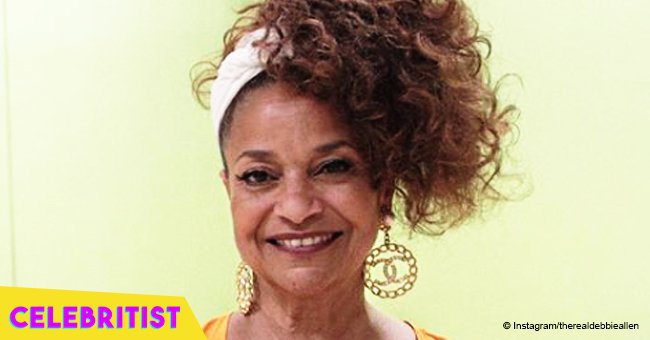 Debbie Allen stuns in see-through white outfit in recent picture with co-star Ellen Pompeo

Debbie Allen reveals some skin as she fashions a see-through white ensemble while surrounded by Hawaiian dancers at the party. The actress reveals she's at a kick off party for 'Grey's Anatomy,' her show which is rumored to be ending soon.
Debbie Allen was an apparition in white in a recent photo she shared. The 'Grey's Anatomy' star was celebrating her medical show's kick-off party surrounded by Hawaiian dancers when she shared the snap where she's also joined by her co-star Ellen Pompeo.
Debbie was dressed in a see-through off-the shoulder blouse with a matching pair of pants revealing a yellow spaghetti-strap blouse underneath. The 68-year-old who's had a recurring role in the hit series for almost seven years glowed and appeared to be enjoying her moment surrounded by dancers dressed in grass skirts and sporting matching headdresses. A dancer herself, Debbie was probably raring to shake her butt along with the group as they entertained guests during the party. Giving her followers an idea of what was going on, the legendary actress accompanied her photo with this caption.
"Thank you @lizwattsandco for bringing our @greysabcKick Off Party to life with these amazing dancers!!!@ellenpompeo is ready to jump in!"
News of 'Grey's Anatomy''s end has been circulating. And while the show's star Ellen Pompeo seemed to allude to its truth, Debbie had a different opinion. Discussing the show with Closer Weekly in May, the actress didn't think the series was about to end.
"I don't see that right now. The train is so strong and the audience is so committed. It's so global. Grey's Anatomy has a huge audience that is brand new. We've had a whole new audience the last couple of years of 13 or 14-year-olds that started from Season 1 and are now our biggest fans"
Currently entering its 15thseason, the series that revolves around the life of Meredith Grey has become one of the longest-running primetime series today. While Debbie thinks the show will go on for a longer time, Ellen who play's Meredith says "there is an end and it's nearing." However, until no confirmation has been made by the show's creator Shonda Rhimes, that premise remains to be just that.
Debbie started in the series in 2011 portraying the role of Dr. Catherine Avery. In 2015, she became one of the show's executive producers and even dabbled into directing some episodes. The actress admits the job has kept her quite busy revealing she hardly gets any sleep. But Debbie is proud of the show and its storytelling. Season 14 ended remarkably and even if the show's end possibly looms, fans are still awaiting its return this fall.
Please fill in your e-mail so we can share with you our top stories!