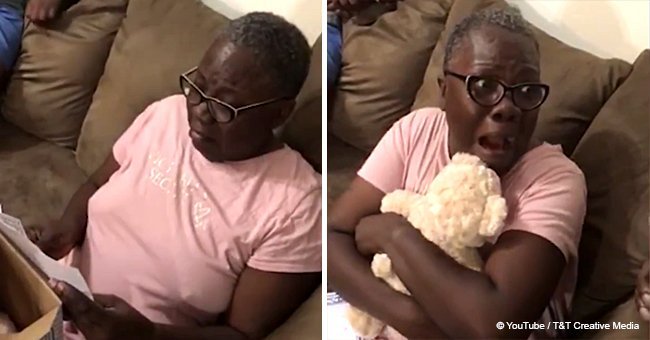 Woman breaks down in tears when she recognizes the voice from a teddy bear

55-year-old Bernadette Weekes broke down into tears when she pressed the paw of a teddy bear given to her by her son, Patrick, and heard her late mother say to her "I love you."
Bernadette's 85-year-old mother, Margaret Weekes, died on May 30. Margaret was a mother of 11 children, a grandmother to seventeen, and a great-grandmother to eleven.
Margaret was from the city of Atlanta, Georgia, and was widely known for saying "I love you" to everyone she met, even complete strangers.
As a gift to his mother, Patrick decided to comb old videos to find a moment when his grandmother said the phrase. He then took the recording to Build-a-Bear and got it implanted in a teddy bear which he named 'Mother Love'.
Read more about Bernadette Weekes on our Twitter account @amomama_usa
Source: Youtube
In a heartwarming video recorded by her family, Bernadette can be seen opening the gift and breaking down soon after she read the name 'Mother Love.'
When Patrick asked her to squeeze the teddy's paw, there was no stopping Bernadette. She was left breathless and gave a joyous scream before breaking into tears.
Source: youtube
Patrick's idea behind this gift was to make Bernadette feel that her mom was always by her side. He knew that her mother would be surprised and would love the idea.
He was nervous that it might be too much for her to handle but she loved it. Margaret's primary caretaker, Bernadette was left devastated after her mother died. Bernadette was there with her mother when Margaret breathed her last.
Bernadette said that it was the best gift she would ever get and that she felt like she had been given her mother back.
Patrick said that her mother cuddles and sleeps with the teddy bear every night and he would probably need to get a new battery soon.
Please fill in your e-mail so we can share with you our top stories!