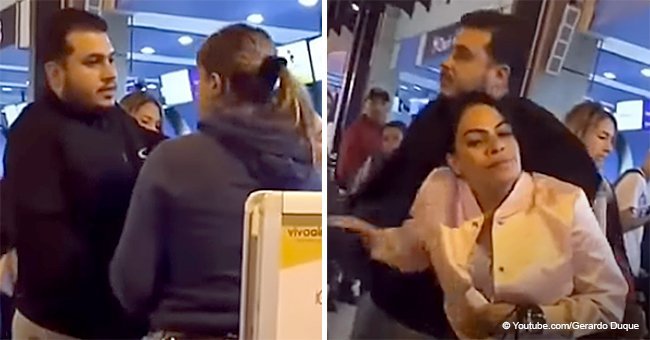 Woman catches husband with another woman at airport sneaking off on romantic getaway in viral video
A man and his mistress were ready to enjoy a romantic trip, but they never expected the enraged wife to appear at the airport ready to put them in their place.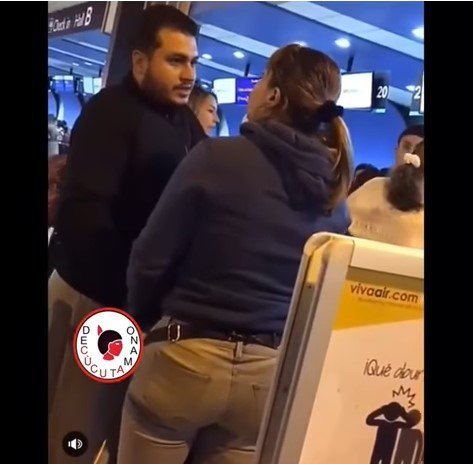 Youtube/Gerardo Duque
A video captured at José María Córdova International Airport in Colombia shows how a furious wife confronts her husband and his lover as they were on the check-in desk queue ready to take a flight to Cartagena, a popular destination in the Caribbean coast
In the minute-long clip, recorded by a shocked on-looker, a woman is seen screaming to her husband while grabbing a handful of hair of her love rival. The man tries to remain calm and while protecting his mistress from the enraged woman while telling her to lower her voice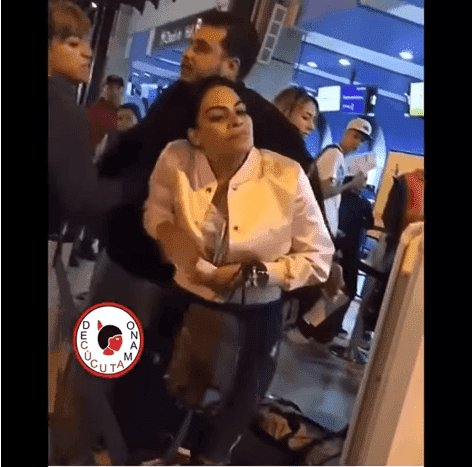 Youtube/Gerardo Duque
However, the lady doesn't budge, and tells him "On Saturday you were going to take me out with our kid, and today you're taking her." She then tells him to stay out of it as she calls out the other woman to face her.
The mistress remains quiet, causing even more rage from the wife as the man finally steps out of the line and tells someone to call the police. With a firm grasp on the other lady's hair, the wife then tells her husband "hit me if you want so that the police can take you."
She also spewed insults to the other woman, calling her a "prepago" which is a way for Latino people to refer to prostitutes. The woman also accused her husband of being a "liar, fake and cynic."
The video ends abruptly, so is not clear if airport authorities intercepted the fight, if the couple was able to board the plane, or if the enraged wife finally let go of the mistress' hair.
An Asian love affair went wrong
Videos of cheaters being caught red-handed have become a thing on the internet. People seem to find some pleasure in watching liars being exposed to the entire world by hurt women, and sometimes men, after betraying their couple's trust.
On the other side of the world, a Chinese woman was captured on video as she climbed on the hood of her husband's Audi saloon after she caught him roaming around the streets with his mistress. The man kept the car moving for a few blocks, but the enraged lady refused to step down the moving car as she screamed the man to let her "get the mistress."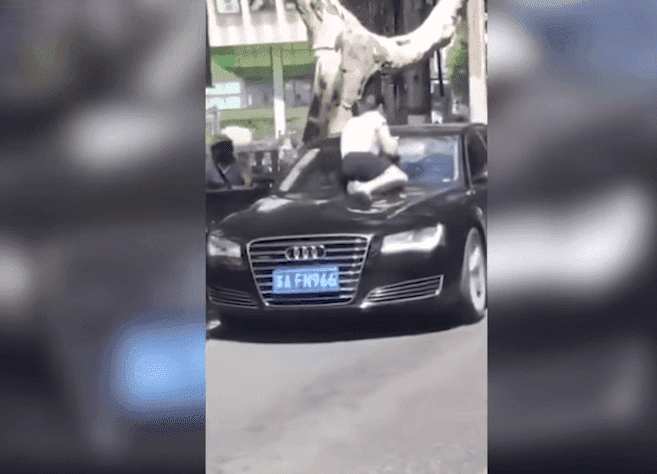 Youtube/Daily Mail
People around Nanjing Aqua City, a shopping district, were witnesses of the scene as the woman, wearing a white t-shirt and a black skirt, kept on screaming to the man and poking his windshield with a stick.
Eventually, the car came to a stop and the driver stepped down. The pair started to have a heated argument on the roadside as the woman kept on kicking and hitting her husband with the same stick she used to break his windshield.
"You said you'd buy a house with me," she screamed. "Yesterday, we were just looking at houses together. Today, you're with a mistress."
While the man tried to keep his wife away from the car, the people who were filming opened the driver's door to capture the other woman on video. Onlookers started to insult the young woman in the car, calling her a homewrecker and telling her she should be ashamed.
The woman didn't just sit and received the verbal abuse, as she started to fire back yelling insults as well. It's reported that police arrived at the scene soon after and took the three individuals in custody.
How technology has shifted our views on adultery
While cheating is not a strange concept in our time and age, it seems like people has become more shameless these days. Technology has certainly played a role in creating "easier" ways for cheaters to get away with their repulsive behavior, and it has also changed what can be considered "adultery" in a modern marriage.
Infidelity is no longer limited to physical contact. Text messages, likes or direct messages on Instagram, right swiping on Tinder and private Snapchats can make it possible to have an anonymous or secret affair.
According to a survey made by Slater and Gordon, 46% of men and 21% of women admitted they use dating app while being on a relationship, and most of them cited boredom as the principal cause. The same survey stated that most people, specifically the new generation, don't consider being on a dating app as cheating unless it leads to a physical relationship.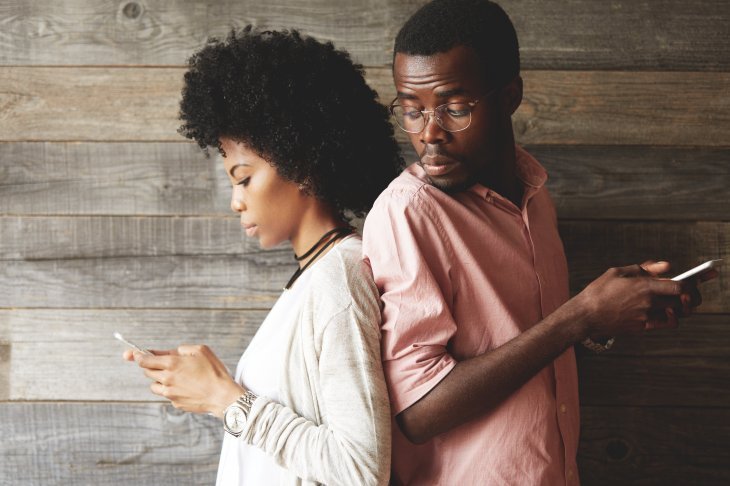 Credit: Shutterstock
Being on tinder these days is seen as the online version of "window shopping."
But while it easier for cheaters to explore their options, it is also easy for the wronged ones to discover their other half's endeavors.
Photos, calls, messages, they all leave a trace on the internet, and just a simple slip up can lead an enraged wife to found out all social media accounts of her husband's mistress, or a wronged husband to track down his wife's ubication to her lover's nest.
Do you think technology has incremented the ways of cheating?
Please fill in your e-mail so we can share with you our top stories!