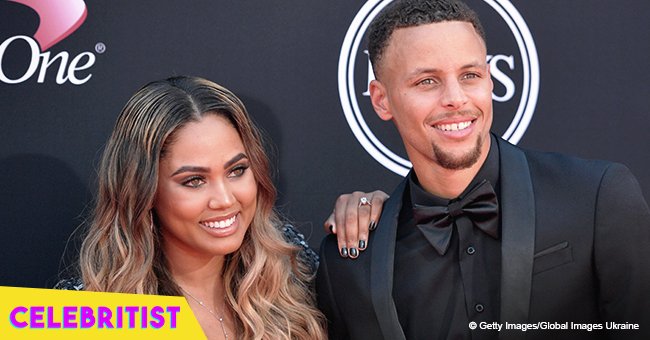 Stephen Curry's wife warms hearts with video of daughter dancing next to her own car on 6th birthday
The basketball player and his wife recently welcomed their third child together, and the couple loves sharing photos of their children to their respective social media accounts.
Ayesha Curry, the wife of Steph Curry, became a mother for the third time when her son was born on July 2, and all her children share the same birthday month, making July very special for the Curry family.
Their eldest, Riley, is charming fans on social media with her dancing skills and confidence.
The Currys are still on cloud nine after the birth of their baby boy, Canon, in early July. But the celebrations haven't stopped in their household, as they celebrated daughter Ryan's 3rd birthday on July 10 and now Riley's 6th birthday on July 19.
To celebrate Riley's special day, Ayesha shared a video of the girl on Instagram dancing to Drake's In My Feelings, as part of the latest internet trend, the #InMyFeelingsChallenge.
The little girl showed off her incredible confidence as she stepped out of her mini car - that she presumably received for her birthday as a gift - to prove she has some impressive dance moves.
Riley had on a strappy black dress covered in a floral pattern and had her hair done up in braids. She had clearly been watching other dancers in the genre doing the challenge, as her moves mirrored those of dancers like Ciara, Lala Anthony, and Michael Strahan.
Ayesha explained that she tried to dance but failed, so she decided she would share her daughter's video instead. She wrote in her caption:
"Turn 6 and hop out the whip like... my attempt was a fail so here's my Riley roo's in honor of her bday. 'Mommy, do you love me. Are you riding?' @stephencurry30"
The 29-year-old famous chef and cookbook author also shared a beautiful set of pics of her beautiful girl to congratulate her on her birthday and gushed about her in a caption that says:
"Our big girl is SIX years old today. WHERE DOES THE TIME GO?! I remember taking her to her 1 week doctor check up like it was yesterday. Now she'll be going into first grade in a few short weeks. Confident, smart, poised and a tad bit too sassy LOL. I love everything about my ryry. The world is yours baby girl. My first born. Mommy's girl, daddy's world."
A few days ago, Ayesha shared a personal essay she wrote for Go Inspo talking about her baby's nursery and taking care of three children at the same time.
"We feel so blessed that God blessed us to be Canon's mommy and daddy and we've definitely been basking in our new addition for the past 2 weeks round the clock. I truly wouldn't have it any other way," she wrote.
And added:
"Right now life is all about navigating how to manage a household w three young children (beautiful chaos), pumping, nursing and changing diapers. If you were a fly on the wall, there certainly would never be a dull moment."
She also revealed that Canon seems to have three moms because his two big sisters can't get enough of him and are helping Ayesha with everything.
Ayesha and Steph were happy to show their baby boy off almost immediately after his birth, unlike many other celebrities of late who have chosen to hide their children's identities.
In the image, Ayesha is shown wearing a black shirt while holding Canon in her arms. The baby was wearing a white onesie that had several blue stars all over it. One of the cutest aspects of the picture was Ayesha's face, which showed nothing but love.
For the caption, the proud mother made her feelings clear by writing "pure bliss." Ayesha also wrote that it was a rare photo of her and her 'new man' sharing an intimate moment. She then admitted to being in love with the baby.
With basketball season over, Steph also has plenty of downtime to help his wife with their growing brood. In another Instagram post by Ayesha, she showed her husband multi-tasking as he held onto baby Canon. The caption read:
"The two men in my life enjoying a little Golf Channel. Swoon. I know @stephencurry30 can't wait to get this little guy out on the course. UNTIL THEN... we wish you good luck this weekend in Tahoe dada!!! Hit em straight. 'Get in the hole!'"
The couple was ecstatic to finally add a little boy to their family. Despite being eager for a son, Ayesha and Steph decided to wait until the baby was born to find out the sex.
Please fill in your e-mail so we can share with you our top stories!