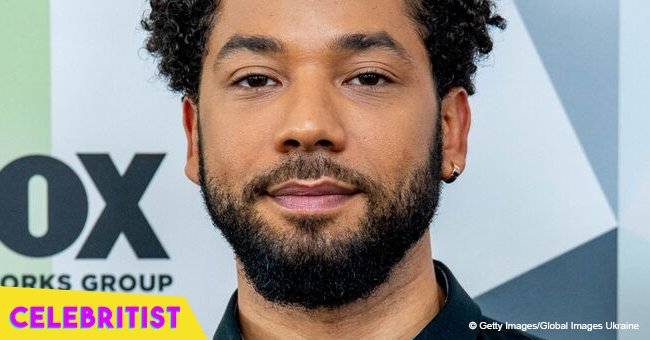 Jussie Smollett embraces his sister Jazz and little niece in new touching photos

Actor Jussie Smollett, best known as Jamal Lyon in Empire, shared a couple of photos on his Instagram account portraying himself, his sister Jazz, and his niece Nylah.
In the first image of the three-media post, Jussie is portrayed wearing white shoes, light brown pants, a white shirt, black sunglasses, and a black cap. Jazz was next to him wearing tight blue jeans, a blue shirt, and white shoes.
Between the siblings, Nylah was being 'squeezed' in the hug that Jazz and Jussie shared. The girl put on black shoes, black pants, and a white shirt.
The rest of the pictures in the slideshow portrayed the trio posing in different ways. In the caption, the actor revealed that he flew all the way to Atlanta to spend the day with two of his favorite girls.
'Love them so much. Seeing Jazz work all day then come home and work more as Mommy is crazy. Shoutout to all the mothers out there. We see y'all [sic],' added Jussie in the caption.
As soon as the actor shared that slideshow, his fans and followers took to the comment section to share their thoughts. One of them was Instagram user Sasha Simone, who pointed out that Jussie had a beautiful family and that he and his siblings looked 'just alike.'
Those pictures were uploaded a couple of days after Jussie announced some big news about his family and the next project they are embarking. The actor and his siblings broke into the food world with a new cookbook titled The Family Table.
Jake Smollett, one of Jussie's brothers, shared a slideshow on his Instagram account portraying the articles that People, Essence, and Houston Chronicle wrote about the book.
The first image portrayed all the Smolletts – Jussie, Jurnee, Jake, and Jazz – with drinks in their hands and dishes in the table in front of them. The second picture showed the family eating with some friends.
Finally, the third photo displayed the Smolletts and their friends enjoying the meal and some beers on the table. All those images were taken from the magazines/websites of the previously mentioned outlets.
Please fill in your e-mail so we can share with you our top stories!