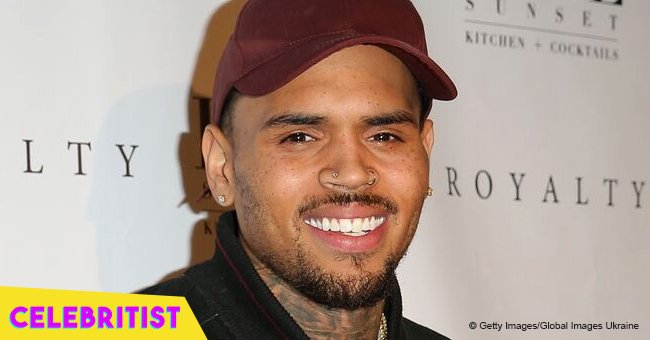 Chris Brown melts hearts with photo of smiling daughter in light pink dress & matching hair-band
The composer, pianist, and electronic musician has a young daughter, who seems to have taken to the limelight with incredible poise for such a young age.
Chris Brown welcomed a baby girl back in 2014 with Nia Amey, and the now-4-year-old Royalty Brown seems to absolutely love being in the spotlight just like her famous father. And the proud papa loves to show her off.
Photos of little Royalty litter her father's Instagram account, and a recent photo shows her smiling happy at the camera looking every bit the part to live up to her name.
The sweet image shows the little girl wearing a dress fit for a young princess, with her long curly hair flowing about her shoulders.
The baby pink dress featured a layered tulle skirt with little cutout hearts, cutouts around her waist, and ruffles on the straps over her shoulder. She wore a matching pink headband with a flower to keep her hair out of her ace.
Royalty grinned a big toothy smile at the camera, and held a bunch of delicate white flowers.
"Absolutely an Angel," her father captioned the beautiful shot, with a red heart emoji.
Another video recently shared by The Shade Room to Instagram of Royalty showed her giving an adorable demonstration of her voice while singing one of her dad's songs, Freaky Friday.
It appears that she is sitting in the car, but the camera is zoomed in close-up to her face, making anything in the background hard to distinguish. The clip is only a few seconds long, giving just a sneak-peak of her version of the song.
The clip already has over 1.3 million views. Plenty of fans also took to the comments to share how adorable they thought she is.
It's not the first time that Royalty has been shown in conjunction with this particular song of her father's.
Back in March, just a day after Freaky Friday, which Brown recorded with rapper Lil Dicky, he shared a video of his daughter listening to the song for the first time.
At one point in the song, when Brown sings "holy [expletive] I got a kid," his daughter excitedly looked up at the camera with a huge grin and exclaimed "that has to be me!"
Her father captioned the funny video with Royalty's reaction, a heart emoji, and a laughing emoji.
Royalty also already has her name attached to a brand, her own line of child-friendly lip glosses and nail polishes.
The tot stepped out in style with her mother at the 2018 installment of BeautyCon in Los Angeles with her glamorous mother, where she had a booth promoting her Royalty Brown Beauty products.
And her father also hopes that she will take to a music career as she grows up.
While Brown was on his HBOAFM Tour, he had his daughter up on stage with him, practicing his songs and dances with her.
Brown shared a photo of his daughter on stage with him at one point, captioning it: "NEXT GENERATION"
The tot, wearing a light blue shirt, a pair of pink shorts, and some strappy white sandals, looked completely comfortable up on the stage with the microphone in her hand as she tested her dad's dance steps.
Please fill in your e-mail so we can share with you our top stories!