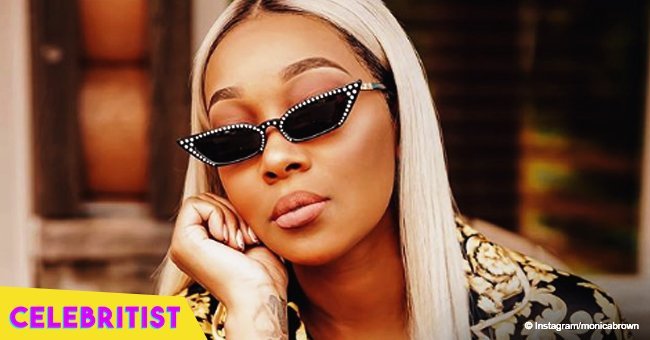 Monica Brown's daughter stuns in Givenchy dress in pic with mother & grandmother who's turning 67
Laiyah Shannon looks stunning posing next to her mother and grandmother as the later celebrated 67 years of life. Monica made sure to honor her mom with a series of sweet pictures and messages on social media.
Monica Brown has always been open and honest about the relationship she has with her mom, Marilyn Best, whom she has credited in several occasions for her relationship with God and the reason why she stays grounded despite her fame.
The matriarch of the family turned 67 on Tuesday, and to celebrate, her daughter posted a series of pics and videos to Instagram. Two of the adorable pics show three generations in one frame, as Mrs. Best posed with Monica, and her granddaughter Laiyah proving that beauty runs in the family.
Marilyn was pictured wearing a long-sleeved white t-shirt, ankle-length jeans, floral printed shoes, a bucket hat and a Louis Vuitton crossed purse that Monica and her kids gifted her earlier in the day. Monica was rocking white pants and t-shirt with a red LV printed blouse on top; she added a Supreme red bag to her look and red sports shoes.
Laiyah stole the show wearing a black Givenchy dress with slits on either side of her legs and a matching jacket. She added a splash of color to her look with red shoes, as she rocked braided hair and a Gucci pouch.
Brown wrote in her caption:
"Happy 67th Birthday Mom.... U celebrate you daily with a grateful heart & full understanding that I am, I live & I love the way I do because of you! Any of the good that seem in who I am as a person is because of you. Happy Birthday Nana."
The singer also shared a series of videos of the birthday celebration to give fans an example of what she has learned from her mom.
In the first clip, the trio is seen dancing to a tune from Soca singer Voice the Artist while Monica is wearing a bathrobe. Of this moment, the 37-years-old singer wrote:
"Two of the GREATEST lessons I've learned from my mom you can see in these videos.. 1) Connect, Relate & Bond with your children. Let them know they come first, whatever they love, learn as much as you can about it."
The second clip shows the moment Mama Marilyn opened the gift from her family, and the joy on her face was priceless as she stood up to hug Monica for giving her such a beautiful present. This was also a lesson Monica wanted to teach her fans, as she continued:
"2) GRATEFULNESS, you can buy my mom a candle and she will say how amazing the scent is, hug you & sincerely thank you!! I Thank God for you Mom."
Marilyn and Monica have a close relationship, and the singer is always making sure to give her mother a great life to prove how thankful she is for everything the woman has done for her.
"She instilled certain morals and values," said Monica to People magazine a few years ago, and continued:
"She said, 'Regardless of where you go, take you with you wherever you go. Whatever you're around, whatever you see, never allow it to play a part in who you become'."
Happy belated Birthday to Mrs. Marilyn.
Please fill in your e-mail so we can share with you our top stories!