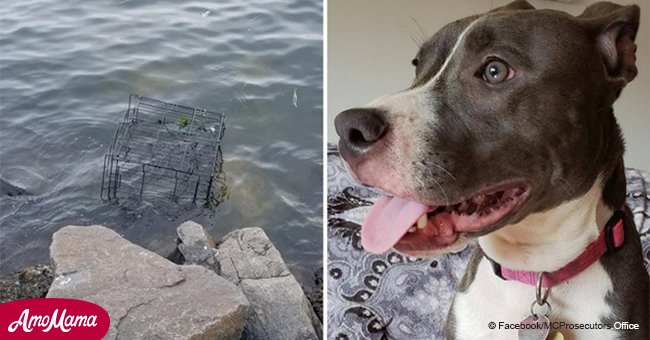 1-year-old dog abandoned in cage and left to drown on beach
The dog had been placed in a metal cage right at the water's edge in the early hours of the morning, with the likely hope being that the dog would drown as the tide rose.
A 1-year-old grey and white male Pitbull was discovered in grave peril by a dog walker on Monday, July 30, in Highlands, New Jersey, while walking their own dog along Veterans Memorial Park at the borough's bayfront.
The person had been out walking at 6:15am that morning when their dog noticed something in the water, and kept pulling them closer.
Upon inspection, they realized that there was a dog in a cage that had been placed against the bulkhead at the edge of the steadily rising water.
As reported by NJ.com, the water was already lapping about inside the bottom half of the cage, and with the tide coming in, it wouldn't be long until the entire cage would be under water.
Animal control was called to the scene, and by the time they were able to lift the dog out of the sea, the water had almost covered him.
The poor pup was taken to the Highlands Police Department, which contacted the prosecutor's office in regards to the case.
The Prosecutor's office has begun an investigation into the dog's abandonment, and are looking for the person who left the dog in the water in the potentially life threatening situation.
Because of the tide schedule, it is currently assumed that the dog was placed there between 4 and 6am that morning.
Plenty of Facebook users took to the comments section of the Prosecutor's Facebook post, with some offering up suggestions as to punishments for the perpetrator.
There has been no update on the dog's condition since his rescue.
The Prosecutor's Office has requested that anyone who might have information regarding the incident come forward to help with the investigation.
Please fill in your e-mail so we can share with you our top stories!