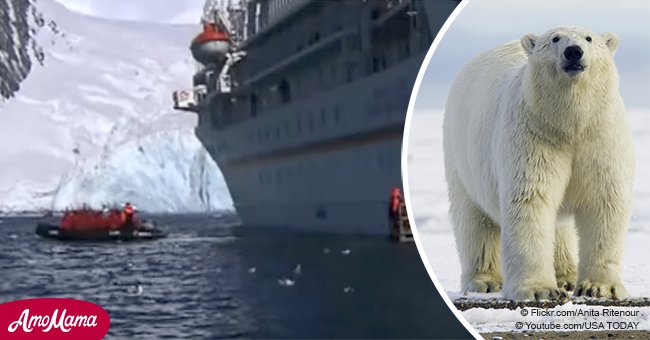 Polar bear shot to death after cruise ship guard attacked

While the cruise company claims to have shot the animal in self-defense, killing the bear has triggered a lot of criticism.
On Saturday, July 28, a polar bear on the Spitsbergen island in Norway was shot dead by a worker of the MS Bremen cruise ship that had landed on the archipelago of the Arctic, as reported by CNBC.
The polar bear had attacked one of the two cruise ship guards who had stepped on the island, and he was shot in retaliation. However, several netizens have voiced criticism for shooting down the island native.
According to the Joint Rescue Coordination for Northern Norway, the incident took place after the ship landed on the northern-most island of the Svalbard archipelago. Read more animal stories on our Twitter account @amomama_usa.
Source: Freepik
Negar Etminan, the spokesperson of the German Hapag Lloyd Cruises Company involved in this case, stated that the polar bear had attacked the guard on the head, and the act of gunning down the bear was done in self-defense.
In a lengthy post on social media, the company elaborated further on the incident, stating that there was a team of four polar bear guards on the ship in accordance with the legal requirement.
The confrontation with the polar bear took place when the guards were about to proceed for a brief leave. The guards did not notice the polar bear, and moments later, the bear attacked one of them.
The company wrote that they prioritized the safety of the injured human and flew him via helicopter to the nearby town of Longyearbyen for treatment.
While the injured guard seems to be recovering smoothly, the cruise company has received its share of blame and disapproval for bringing the wild animal down.
BBC star and seasoned biologist Adam Hart posted an online message stating that this was yet another example of how tourism is turning out to be detrimental to the species.
Comedian and animal activist Ricky Gervais condemned the people involved in shooting the bear, mocking the irony that the humans decided to go too close to the natural habitat of a polar bear and then shot the bear because it got too close to them.
The point of view of Gervais and other criticisers online seems to stem from the fact that Spitsbergen island is a secluded one and is inhabited by polar bears, reindeer, and glaciers.This combination may seem adventurous for human beings looking for fun but is ultimately dangerous, even life-threatening, for all concerned.
Please fill in your e-mail so we can share with you our top stories!