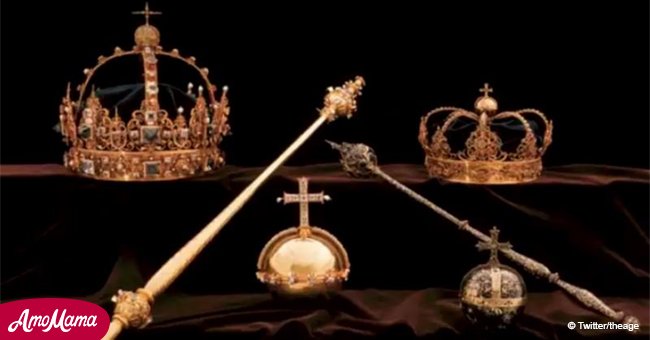 Aftonbladet: Royal crown jewels stolen from cathedral in daring Hollywood-like robbery
A team of thieves fled with treasured jewels of the Swedish royal family that had been stored at a famous 13th Century cathedral.
As reported by Aftonbladet, some of the most prestigious crown jewels of the Swedish royal family were stolen earlier this week from the Strängnäs Cathedral.
This included the crowns belonging to Karl IX and Queen Kristina and a bejeweled orb that belonged to the royal family.
The exact monetary value of the stolen ornaments is unknown, however, they included layers of gold-plating and were embellished with pearls and precious stones.
Thomas Agnevik, the spokesperson of the police department, also emphasized on the worth of the artifacts, stating that they were unique objects to which one could not easily assign a price.
Read more stories about ancient royal treasures on our Twitter account @amomama_usa.
The crown jewels date back to the 1600s and were once buried along with the body of Karl IX. However, they were taken out years later to be showcased as artifacts from the ancient era.
Agnevik explained that thieves would have shattered the glass cases to grab the jewelry, at which point the alarm in the church would have gone off.
A few witnesses revealed that they were having lunch when they spotted men rushing out of the cathedral in multiple directions.
Another witness, Tom Roswell, reported that he noticed the bunch of thieves getting into a small boat. Roswell was a tourist in the area, and he is said to have seen the men speed away in the boat into the vastness of Lake Malaren.
This is a key hint in the investigation, and Agnivek stated that the police are mapping out the areas which the thieves would reach via boat, considering probabilities of every direction.
Even though the men who conducted the heist managed to get their hands on precious jewels, Agnivek is confident that they would not be able to use black markets for selling them, given that they are easy to recognize.
However, he also admitted the possibility that the crown jewels may not be retrieved and the men behind the crime would remain untraced, especially if they are experienced experts.
The stolen goods had been buried with Karl IX since the 1600s but were later exhumed and put on display at the cathedral.
Please fill in your e-mail so we can share with you our top stories!