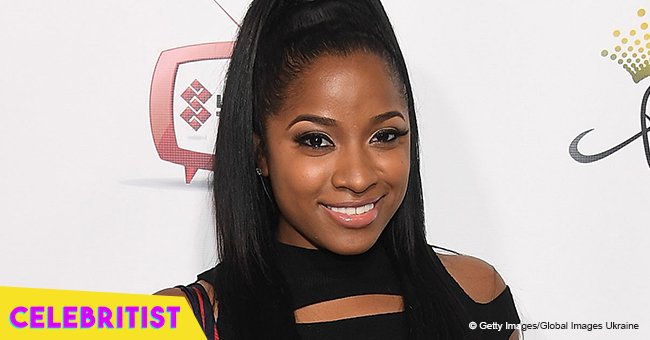 Toya Wright shares video of baby Reign sitting on the couch and watching TV

Reign Rushing might only be 5-months old, but she definitely seems a lot smarter than most babies her age. Just recently, she was seen watching television like a normal grownup in an adorable snap posted by her mother.
Toya Wright just can't get enough of her baby girl Reign, and based on what she has been sharing on her social media accounts, we totally understand why. Reign is not only adorable, but she is also very intelligent. The most recent video posted by the doting mom proves just that, after she caught her little daughter watching TV like a grown person.
"This little girl is so funny.... she be watching tv like a grown person. lol"
In the clip, Reign is sitting all alone on a printed blue couch as she attentively watched television. The little girl sported a neon yellow top which featured ruffled sleeves and was wrapped in a white fleece blanket to cover her legs.
Born on February 8, 2018, Reign Ryan Rushing will be turning six months old in just a week, and her mom Toya made sure to note this on social media and remind her fans about it. Posting some never before seen photos of her daughter, Toya explained her disbelief at how her daughter was already half-a-year old.
"Omg! I can't believe she's gonna be 6 months in 2 weeks."
While the ex-wife of Lil Wayne has been sharing photos of Reign and her other beautiful daughter Reginae Carter, what her fans don't see very often is her new boyfriend and baby daddy Robert Rushing.
Toya kept Robert's identity a secret during the first few months of her pregnancy, eventually revealing him as her baby's father only during her baby shower. While many speculations arose about why she kept him a secret, Celebrity Insider confirms that the reason why was to protect the man's privacy, especially since he is not a celebrity like Toya, but rather a humble businessman.
However, the reality TV star made an exception earlier this week, when she posted a photo of their little family during a Rushing family reunion. Given the fact that Reign and Robert could have attended the festivities alone, having Toya there gave a hint that the two were actually in a relationship and are going strong.
While there has been no marriage news for the lovely couple yet, Toya was previously married to Lil Wayne from 2004 to 2006, and together they share Reginae. She also married Mickey Wright from 2011 to 2016, still carrying his last name.
Please fill in your e-mail so we can share with you our top stories!