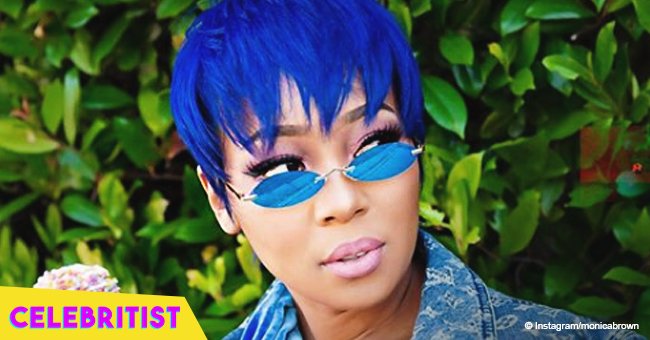 Monica Brown flashes some skin in white top & loose pants in recent pic
The American R&B singer, songwriter, producer, actress, and entrepreneur has always looked beautiful, even in recent months when she confessed she had gained weight and couldn't fit into her clothing anymore.
37-year-old Monica Brown recently took to her Instagram account to share a stunning photo of herself pulling off her best mermaid impression while posing with a transparent umbrella in the rain.
In the shot, her long locks had been dyed turquoise at her roots until about halfway down, at which point she had switched to a soft shade of lilac extending all the way down to its ends where it faded into a bubblegum pink.
"Most Mermaids Love water...I prefer sunshine..Tank/Joggers: @fashionnova .... Rainy day in Georgia ..." she captioned lovely image.
She appeared to be wearing a white jumpsuit with a high cut around her hips and low cut around her chest. She accompanied it with a pair of baggy white pants, in the pocket of which she kept one hand.
The tattoo on her arm and her opposite shoulder were peaking out at the angle she stood, and she completed the mermaid look with a soft pink eyeshadow and lipgloss.
Within less than 24 hours, she had already racked up over 90,000 likes on the image, and plenty of fans took to the comments section to gush over how gorgeous she looked.
Monica has been married to Shannon Brown since November 2010, and the couple seems every bit in love today as they did they said their "I do's."
When Monica gained some weight earlier in the year, she shared that she weighed in at 140 pounds for the first time in her life, and that her closet was full of clothing she could no longer wear.
But Shannon had a different response to her worries. She revealed that she had video called him to tell him she needed to urgently start working out, but he stopped her in her tracks before she could get a word out.
"Before I got out a word he said "Damn you look good in your bathing suit" and I was back to Miss Thang LOL... When they love you they lift you ....... Thank you Baby..." she wrote in the caption of her Instagram post.
Monica had been away on holiday with her three children, sons Rocko and Romelo, and daughter Laiyah, in Anguilla, where they had been enjoying the sunshine and the beach.
She also opened up in 2017 about her struggle with endometriosis, something other celebrities who suffer from the condition have also started to do of late.
In May of that year she underwent surgery to try and alleviate the severe sickness she was experiencing as a result of it.
"May 30th I had an almost 8 hour surgery to remove my endometriosis (which I didn't know I had until two weeks prior) , 2 cysts, fibroids & a hernia that all were making me very sick," she wrote. "I've known something was wrong but I also knew victory & better health would be near again!!"
Please fill in your e-mail so we can share with you our top stories!