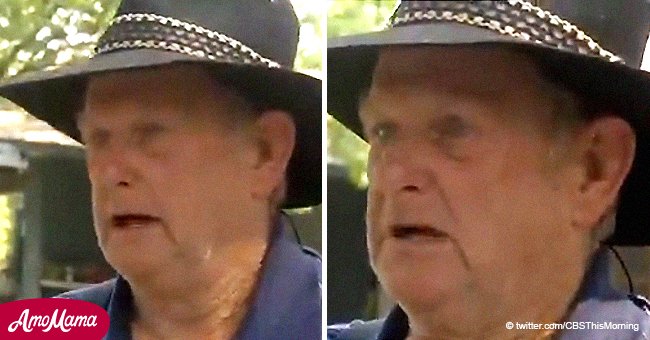 Grandfather has to listen helplessly while his wife and grandkids die in wildfire
Ed Bledsoe tried to get home to save his wife and two great-grandchildren but he was powerless when compared to the wildfire that spread too quickly and he also had to painfully listen to them die as he was on the phone with at the time of the fire.
CBS This Morning reported about the tragedy of the family from the Shasta County, California, on July 26, 2018.
Ed Bledsoe who left his home on July 26 for a doctor's appointment, He had no clue that the Carr Fire that was around three miles away would reach his home and he would lose his wife and two great-grandchildren.
Bledsoe's wife, Melody, and his great-grandchildren, five-year-old James Roberts and four-year-old Emily Roberts, were inside the home when the fire engulfed their house.
He could hear his family start to panic and scream. He wasn't gone long when he received a phone call from his wife.
Bledsoe tried his best to return home to his family, but he could not get to them fast enough because of the heavy traffic caused by the fire. He was forced to get out of his car and make his way on foot.
During the family's final moments, Bledsoe was able to talk to them over the phone. His great-grandson begged him to come to save them from the fire.
"He just kept saying 'Grandpa, come and get me, the fire's coming in the back door."
By the time Bledsoe raced back home, the smoke was too thick and the flames were very high and he could do nothing to save his family.
During that last phone call, Bledsoe's wife and great-granddaughter also spoke to him and said their goodbyes through sobs and tears as Bledsoe continued to try to reach them before it got too late.
The remains of the Bledsoe's wife and the children were later found in the burnt home. Melody Bledsoe had covered herself and the children in wet blankets.
Melody Bledsoe and her two great-grandchildren were the latest reported victims as a result of the dangerous fire.
Two firefighters have lost their lives and more than a dozen people are already missing because of the fire, officials have reported.
Please fill in your e-mail so we can share with you our top stories!