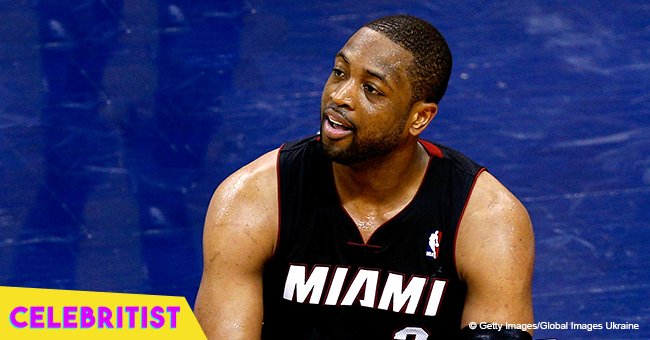 Dwayne Wade hits the basketball court together with his 16-year-old son
Dwayne Wade's son displays amazing basketball skills during a game where he teams up with his dad. The Miami Heat star who hasn't decided whether he'll be returning to the league next season can look forward to cheering on his son when the time comes he too gets drafted in the NBA.
It's unclear whether Dwayne Wade will be returning to the NBA for his 16thseason but he did return to the court with his son Zaire in Los Angeles.
The father and son duo exhibited their exceptional tandem by teaming up in a pick-up game shared on video by the Miami Heat star. Zaire clearly has a promising career in basketball as he showcased his skill reminiscent of his superstar dad's. Check out the video below to see all the action.
In 2016, Dwayne spoke about his 16-year-old son's interest in basketball and said he wanted him to enjoy the game first before seriously making it his business. At the time, the NBA player described him as "a kid" with his body still undeveloped.
"He's a kid. My son is not a kid like LeBron James was at 16. He's not that. His body has not developed to that level. I'm actually glad because it allows him to develop later. He's just a kid, and I want him to enjoy the game first before it becomes a business. It's a fine line between them."
Two years later and Zaire is all fired up and preparing for his collegiate years. With his recent team-up with his dad, it won't be long before fans see him playing for the NBA as well.
As for his father, his future with the league still looms. He has an offer to play in China but at 36, he feels he still has something to contribute to the NBA. He did hint at returning in his tweet prior to his game with his son.
"16 and year 16" #The Wades"
If he does return, it's likely he'll still be playing for Miami where he averaged 11.4 points, 3.8 rebounds and 3.4 assists during his team's games against the Cleveland Cavaliers last season. He also said in the past that in the eventuality he decides to retire from the NBA, he'll still reside in Miami.
Please fill in your e-mail so we can share with you our top stories!