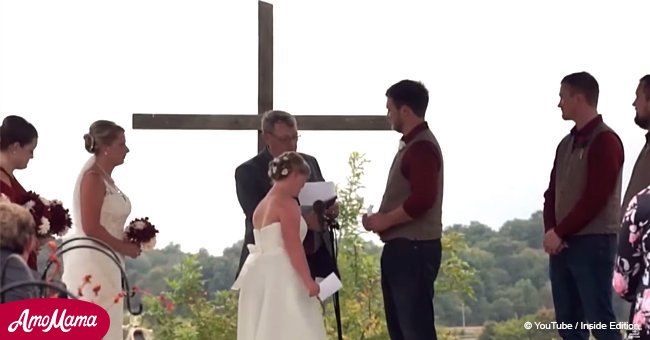 Happy groom proposes to his bride's sister, since they 'come as a package deal'
Will Seaton of Indiana made the perfect marriage proposal that included his bride-to-be's sister who has Down syndrome.
Will, 25, got down on one knee before his girlfriend Ashley Schaus, 23, in a beautiful meadow where he took her and her 16-year-old sister, Hannah. It happened in March 2016.
But before popping the question to his girlfriend, Will first dropped to one knee before her sister. Presenting a ring to Hannah, he asked if she could be his best friend for life.
Follow us on our Twitter account @amomama_usa to learn more.
Ashley recalled the special moment in an interview with TODAY. "And then he looked at me as I was trying to stop sobbing. I asked 'Am I next?' Then he got down on one knee and asked me to be his wife."
Will knew how strong and deep the bond between the two sisters was, and he wanted to honor that.
"I wanted to include Hannah in the proposal in case she may not get to experience that," Will said in an interview with TODAY.
" Hannah is a big part of our relationship and I already consider her a sister."
Ashley and Hannah Schaus had always been close. Because Hannah has Down syndrome, she will be permanently in Ashley's care.
Ashley fell in love with Will after they met during a car show in Bristol, Indiana seven years ago.
She worried at first that her sister might be left out in the process. But she vowed never abandon her younger sister. She made it clear to Will that if he wanted to stay in her life then he needed to accept and love Hannah too.
"Hannah and I were a package deal. She's part of my life and if you're going to be with me, she's going to be with us," Ashley was quoted as saying in the TODAY report.
Will completely understood the situation. He wanted to make sure that Hannah would not feel left out when he marries Ashley. He welcomed Hannah into his life with open arms.
During their courtship, Will also forged a strong friendship with Hannah. Will and Ashley took Hannah along on most of their dates - to the movies, to dinner, and to the arcade.
Ashley could not have been happier to see her sister so loved by someone else.
Please fill in your e-mail so we can share with you our top stories!