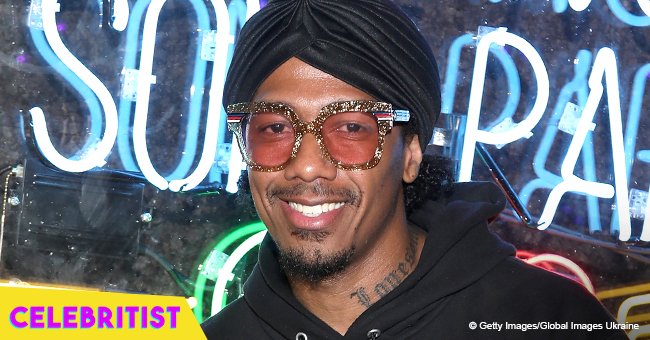 Nick Cannon spotted 'heading out to dinner' with a new lady
The popular rapper, radio and television personality, and producer was spotted out and about for a night on the town with an unknown woman.
Nick Cannon, Mariah Carey's ex-husband and father of 3 by two different women, was seen out for dinner at Nobu in Malibu on Thursday, August 2, with a woman.
In the image, shared to Instagram by The Shade Room, Cannon could be seen walking behind her as they either approached or exited the restaurant.
He had on a pair of loose fitting jeans with a royal blue belt, a pair of tan Doc Martens, and a bright yellow hoodie. He also wore a black headband around his head.
The woman had on a lighter pair of skinny jeans, a pair of strappy red stilettos, and a mustard yellow crop top. Her long dark hair was tied up in a high ponytail, and left falling down her back. She carried a small white handbag and her cell phone.
In the second image, only the woman could be seen.
Cannon has 7-year-old fraternal twins with his ex-wife, Monroe and Moroccan Scott, and a 1-year-old son Golden with another woman, Brittany Bell, who was never in a relationship with.
The proud papa makes plenty of time to spend with his little ones even though he shares custody of all three with their mothers.
He recently took to Instagram with a funny photo of himself and his children, where he appeared to be trying to do some push-ups while both twins were lying down on his back. The youngest of his brood was sitting watching from the sidelines.
Cannon also shared the secret to co-parenting with his ex-wife, something they have been doing successfully in the fours years since they split up.
"The common denominator is we both want what's best for our children," he told Us Weekly. "You put them first and you step back and become selfless in making decisions and it's pretty easy."
In March, he and Carey even attended the Nickelodeon Kids' Choice Awards together with their children, dressing up to perfectly match their mini-mes.
While Carey and Monroe wore black leather jackets, black pants, and black aviator sunglasses, Cannon and Moroccan wore matching white and oragne jackets with loose fitting sweatpants.
"He's a good guy," Carey told ET Online of her ex-husband. "It's not that hard to make it work. Now we can laugh, and joke, and do the good parts of when we had a relationship."
Please fill in your e-mail so we can share with you our top stories!