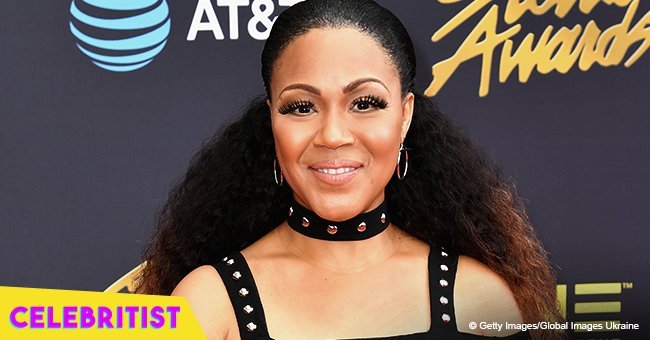 Erica Campbell's daughter is all grown up and has got voice just like her mother
The contemporary gospel singer, Christian R&B artist, musician, and radio host has a young daughter who appears to have inherited her musical talents, and has become comfortable displaying them in public.
Erica Campbell's 13-year-old daughter Krista Nicole Campbell has an incredible singing voice, just like her mother. In recent video clips shared by her proud mama to Instagram, the teenager showed off her talents while singing the national anthem.
Erica took to the social media site with two clips of her daughter singing before what appears to be a basketball court.
"So proud of my baby!!!!" she captioned the footage of the first clip.
Krista wore a loose camo dress with half-length sleeves and a high neckline, along with a pair of pink high sneakers. She left her curly black hair loose, except for one of the sides which she pinned down to keep out of her face.
She stood in the center of the court to sing, and smiled a big toothy grin before she started to sing. The moment she opened her mouth to sing, her incredible voice seemed to silence the room.
But the crowd suddenly found their voices as she hit the high notes with apparent ease, cheering for her as she reached the end of the anthem.
Krista seems to be a shy person in general, and the moment she finished the tune, she appeared almost to duck her head in response to the crowd's reaction, and quickly started to walk off the court.
The teen recently opened up on an episode of We're The Campbells that she had been bullied at school, shocking her mother with the news.
She stated that she wanted to share something, and it was something even her mother didn't know yet. While Erica looked surprised to hear that even she hadn't been told what Krista wanted to share, the young girl dropped a bombshell.
"It was in the fifth grade, these kids were playing a game and I asked them what they were doing, and they said "We don't want no darkies," she told the shocked room.
She also shared that she was very upset by the incident, and that she had gone to cry afterwards.
Later, speaking privately to the camera, Campbell looked heart broken as she shared that she had never known someone had called her child a "darkie" before. The horrified mother wished that she could go back in time and do something.
At one point in the episode, Krista even asks her devastated mother if she is ugly because of her dark skin.
While it's nothing new to hear that people are discriminated against based on the color of their skin, it's particularly heartwrenching when even a young child is not free from the bullying.
Please fill in your e-mail so we can share with you our top stories!