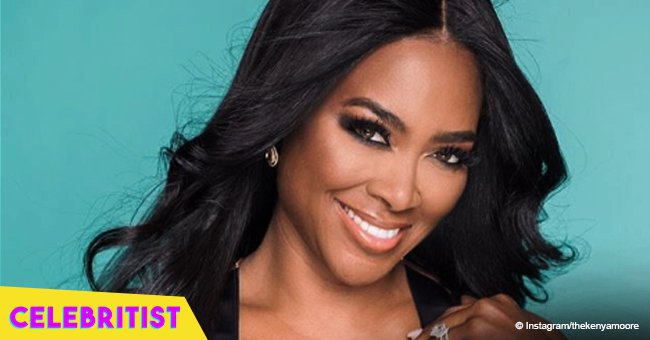 Kenya Moore flaunts growing baby bump on double date with Marc Daly at Kandi's restaurant
Kenya Moore is more than okay as she flaunts her baby bump during a double date night. The reality star recently disappointed fans when she confirmed she wasn't returning to 'Real Housewives of Atlanta' but life does go on.
Just days after fans picketed for her return to 'Real Housewives of Atlanta,' Kenya Moore showcased her baby bump during a double date with her husband Marc Daly and two close friends.
The reality star glowed in a form-fitting canary yellow mini dress as she shared a photo of her date night. The former beauty queen stood next to her casually dressed husband in camouflage shorts and a grey T-shirt as he gently placed his hand on his wife's growing belly. The couple were joined in the photo by Jordache and Rashida Avery who matched each other in blue.
The expectant mom's captioned revealed how much she enjoyed her night out especially the food which she ate too much of. She also gave a shout out to her co-stars Kandi Burruss and Cynthia Bailey who she missed in her outing.
"Amazing date night at @oldladygang with our friends @xmetrical and his beautiful wife/pediatrician @jitaverymd an Amazing couple and outstanding service and food. We shut the restaurant down and I ate waaayyy toooo much … I missed my sis @kandi and @cynthiabailey10 out of town."
Fans agree the 'Deliver Us From Eva' star was glowing in her latest photo op, many of which also expressed approval of her marriage to Marc.
"Ookay . . Kenya and her husband is a cute couple.. She looks amazing i must say."
"It's soooo awesome to see you glowing…pregnancy looks good on you.."
"Look at you lil momma. You look gorgeous. You are a ray of sunshine just like your dress. I'm sooo happy for you and your husband. God Bless."
"Kenya you look so happy and beautiful as always..I'm extremely happy for you and your beautiful new family."
Even gal pal Kandi took to the comments section and gushed over how cute Kenya looked.
"I hate that I missed you! You look sooo cute!"
Meanwhile, another friend she missed, Cynthia, added,
"Wish I could have made it! Glad ya'll had fun."
Fans of Kenya weren't too happy last week when it was confirmed by the 47-year-old celebrity herself that she was no longer returning to 'RHOA.' Five protesters rallied outside NBC in New York City fighting to keep her on the show.
Kenya's confirmation came in the form of a tweet responding to a fan who asked if rumors were true that negotiations for her return to the show were successful. She denied the rumor and even revealed the reason for her decision not to come back to the show.
"Nope... was never offered a friend role, just friend [dollar sign] to do the same job and show family and baby story. No movement in negotiations but not to worry... a girl has options just in case"
Kenya also opened up about feeling hurt about her fate in the show in another previous tweet.
"To be honest yeah it does [hurt]. A dream would be to have everything aligned for once in my life... falling in love, getting married, having a baby, businesses thriving and work life... all at 47 God will have my back."
Meanwhile, Kenya's life isn't totally over. In fact, she's looking forward to being a first-time mom and devoting all her time to her growing family. That should keep her mind away from the disappointment of not getting a happy ending in the show.
Please fill in your e-mail so we can share with you our top stories!