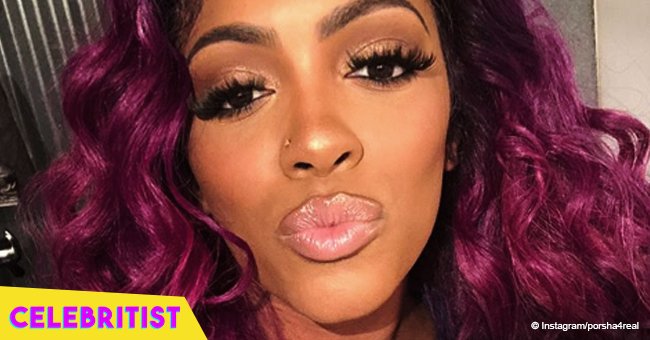 Porsha Williams shows off latest present from new boyfriend in pics

Porsha Williams is feeling the love from her new boyfriend. She recently posed alongside his thoughtful gift as she lured him to dinner in her provocative post.
Since revealing the identity of her mysterious boyfriend, Porsha Williams and her now acknowledged man Dennis McKinley have been treating fans to not just a glimpse but very telling signs of affection towards each other.
The latest proof of Porsha's thriving new relationship is a photo of a bouquet of flowers Dennis gave her "just because" as she simply captioned the pic.
In a separate post, she appeared to be luring the 37-year-old Detroit native as she posed on top of a table along with the flowers and enticed him with the caption,
"Dinner is served."
It's only been a week since Porsha finally revealed the identity of the man she only referred to as DM in previous posts. Celebrating Dennis' birthday, she shared a photo of the two of them while looking forward to forever with him in her caption.
"Screaming Happy Birthday to my love #DM Let's make it last foreverrrr.Yes we have a secret handshake lol he matches my goofy swag"
Dennis' debut on Porsha's social media came after weeks of secrecy surrounding his identity. The couple first made headlines in the summer when they were spotted investing in rings in New York. Since June, the hashtag #DM had been appearing in Porsha's social media posts. Many knew she was dating someone knew as she revealed in the radio show 'Nation,' in early June but she was trying to keep her relationship private at the time.
Now it appears the two are becoming more comfortable opening up to the public as Dennis' most recent post reveals. On August 2, the hair company owner highlighted #NationalGirlfriendDay to acknowledge his new love.
"Every day is #NationalGirlfriendDay [heart-eyed emojis] @porsha4real."
It's unclear how Dennis and Porsha met but their relationship is clearly going strong. Here's hoping they do get the forever they deserve.
Please fill in your e-mail so we can share with you our top stories!