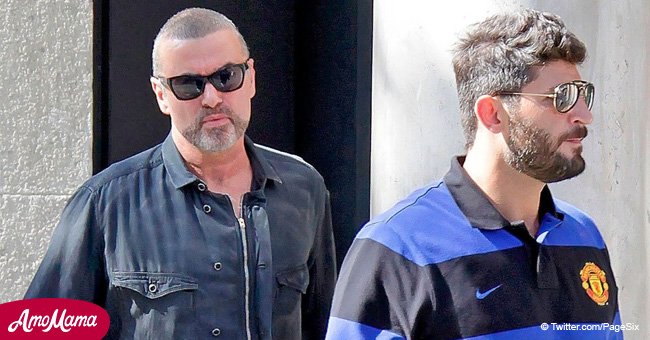 George Michael's ex-boyfriend shares bitter message on social media: 'George I hate you'
Nearly two years after George Michael's death, his ex-partner shared confusing messages on social media about the late singer.
Fadi Fawaz, an Australian celebrity hairstylist and photographer, began dating Michael back in 2012. The couple lived together and it was Fawaz who found Michael's body.
He posted a series of hateful tweets over the weekend, even saying on Saturday on Twitter: "George I hate you." Read more on our Twitter account, @amomama_usa.
In another tweet later that day, Fawaz said he could not be disappointed with someone who "ended thier [sic] own life," and added:
"If anyone can do that to themself [sic] they can do worse things to others."
As reported by the Sun, Fawaz was left out of Michael's will. Instead, the singer's fortune will go towards charitable organizations he supported, and to his sisters Yioda and Melania.
Smaller amounts also went to members of his staff, including his North London home's housekeeper. Even though his houses will be sold, Fawaz is still occupying the house in Regent Park.
Fawaz claimed that he wanted the house, which is worth $6.7 million. Michael's best friend, Andros Georgiou, was astonished by Fawaz's demands.
An autopsy report confirmed that the cause of death was attributed to dilated cardiomyopathy with myocarditis, but Fawaz contested this as well.
He said in an email to the Sun earlier this year that Michael had committed suicide and confirmed that the singer tried to take his life five times in the past.
Three days before tweeting that he "hated" his late partner, Fawaz said on Twitter that his email accounts had been hacked.
He also claimed last month that his Twitter account was hacked, and his feed contains a strange collection of nonsensical tweets about getting revenge.
Kenny Goss, who had dated Michael for 13 years from the mid-nineties also wanted a portion of Michael's estate. He, too, was left out of the will. Read more about it here.
The National Suicide Prevention Lifeline is available 24/7 at 1-800-273-TALK / 1-800-273-8255. Other international suicide helplines can be found at befrienders.org.
Please fill in your e-mail so we can share with you our top stories!